Wednesday, August 1, 2012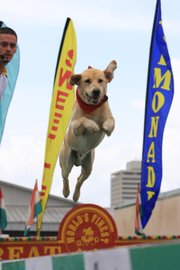 If you love to fish, hunt or just sit out on a boat, the 26th annual Wildlife Extravaganza is for you.
Since 1986, the Mississippi Wildlife Federation has hosted the yearly fundraiser that attracts more than 30,000 people a year. More than 200 exhibitors will present demonstrations, events and more.
"It's a family atmosphere where parents and kids feel comfortable," says Melanie Starnes, event coordinator for the Wildlife Extravaganza.
Kids Day, which is Friday, Aug. 3, will have plenty of hands-on activities for kids, including turkey calling, archery and bowfishing. The Fetch-N-Fish organization will show off fishing tricks and their Labrador Retrievers' high jumps. There will also be an airboat on display for kids to view and learn safety tips, such as how to properly wear a life vest.
Kids won't have all the fun; adults, too, can participate in live seminars and demonstrations on hunting tips or turkey and duck calling, as well as a big buck contest.
Pat Reeves and Nicole Jones, from the Outdoor Channel's Drive TV, are the feature speakers for the extravaganza.
The big buck contest, a popular event, is held throughout the weekend. Any buck hunted within the past hunting season—October through January—may be entered into the contest to be scored. Winners will be announced on stage and photographed for the MWF magazine.
The proceeds of the event go to the Mississippi Wildlife Federation to fund yearly events such as outdoor photo contests, Outdoorama on the Rez, Conservation Achievement Awards banquet, Great Delta Bear Affair and many more.
The Wildlife Extravaganza is at the Trade Mart of the Fairgrounds (1207 Mississippi St.) Aug. 3-5. Show hours vary by day. For more information and ticket prices, call 601-605-1790 or visit mswildlife.org.