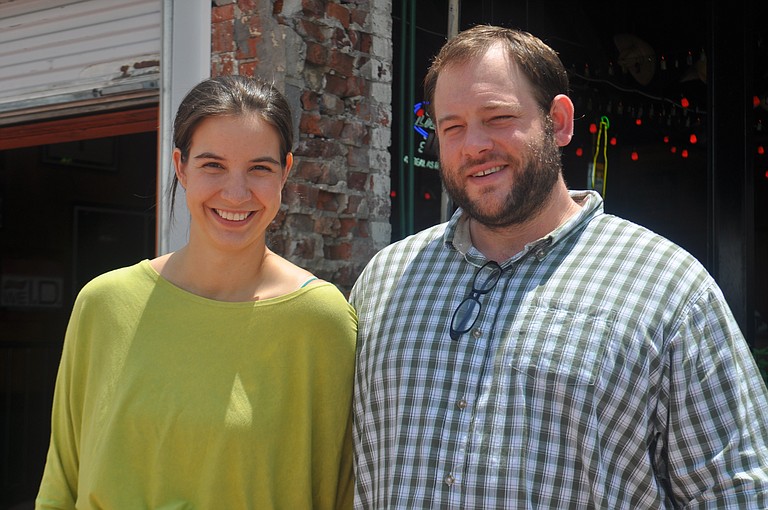 Wednesday, August 1, 2012
John Bell and Allison Meyer are out to give Jackson a taste of the Americas that's a bit more traditional than a run-of-the-mill Tex-Mex joint. For a long time, Bell has been formulating plans for a restaurant that brings together established ingredients and cooking styles, and this year he was finally able to make his dream restaurant a reality.
Bell and Meyer met working together in Utah, as survival guides in of a wilderness-therapy program aimed at helping troubled teenagers. Last November, they went on a date and, soon after, decided they wanted to get married. Meanwhile back here in Jackson, the people leasing the building that would become the couple's restaurant let it go, so Meyer and Bell decided to take it themselves. Bell is a Jackson native, and decided with his soon-to-be wife to move back home and open up the restaurant he'd been dreaming of. Today, Jaco's Tacos is open at 
318 S. State St.
"We moved in January, opened Jaco's in March and got married in April," Bell said. It wasn't easy. With its low, low budget, the restaurant had to serve food on paper plates for the first few weeks. Now they're upgrading the whole space, making it look nicer all the time. Besides the regular indoor seating and a bar, there is also a fairly large patio area at the entrance. Pepper plants grow along the border of the restaurant's property, blocking off the view of the street and framing sunsets in the evening. Jaco's has a stage outside, where once or twice a week the restaurant plays host to local bands. The outdoor seating is popular, even in brutal summer heat. Surpassing the atmosphere, however, is the food.
The menu features everything from shrimp to burgers to the obvious--tacos. Bell and Meyer have gone to great lengths to keep their ingredients and preparation as close to traditional recipes as possible. They use the most natural ingredients available and prepare everything themselves in the most time-honored way. They make their own tortillas by hand, for example, no machine pressing or preservatives to be found.
Quality is the prerogative. "Our beans are prepared fresh daily and take four hours to make," Bell said. The effort pays off in the meals served. While Bell and Meyer don't claim that every single item on the menu is the best of its kind found anywhere, the freshness and quality certainly come through--and it's all incredibly filling. Jaco's serves its drinks (except the alcoholic ones) in fat mason jars, which not only give you a massive serving but adds to the charm of the place. It reminds you that Jaco's is just a little bit different from other restaurants.
Bell spent many years long before opening the restaurant studying ingredients and ways of cooking used around the world and throughout history. He found the traditional foods of the Americas to be the most exciting. "The Europeans that 'discovered' America were actually a bunch of foodies in search of better ingredients and spices from India," Bell said. They brought their various national styles of cooking and mixed it with all the new ingredients found in the Americas."
Jaco's Tacos is meant to capture everything Bell learned from those studies. He brings the mix of European and native flavors together, the way cooks did so many years ago.
The restaurant is still a budding endeavor. Things are sure to change, but with their goals in mind, those changes should only be for the better. The traditional flavors of their food may be some of the best to be had in Jackson, and the live music provides a fun atmosphere. The years of work that has gone into this restaurant is coming to fruition in the most satisfying of ways.
Jaco's Tacos is located at 318 S. State St. Hours are: Monday-Tueday 11 a.m. to 2 p.m.; Wednesday-Thursday 11 a.m. to 9 p.m.; and Friday-Saturday 11 a.m. to 11 p.m. For more information, call 601-961-7001, or visit jacostacos.com or the restaurant's Facebook page.