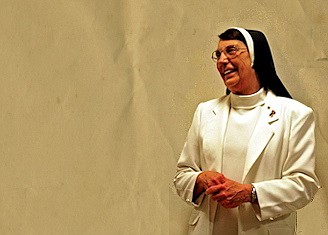 In January, Sister Dorothea Sondgeroth stepped down as president of St. Dominic's Health Services, a post she held for 17 years. For her service there and throughout Jackson, Pope Benedict XVI awarded Sondgeroth with the Pro Ecclesia et Pontifice Cross last week.
The award is the highest medal the Pope can bestow on non-clergy, and the Pope gives the medal to those who have given distinguished service to the Catholic church and their communities.
Jim Wilkirson, executive director of the Fondren Renaissance Foundation, praised Sondgeroth's work with St. Dominic's as a key part of developing and maintaining the Fondren neighborhood.
"She has been an inspirational catalyst behind the revival, continued growth and stability of Fondren," Wilkirson said in a press release. "She, along with St. Dominic Health Services, has been one of the driving forces in our area not only in monetary terms but also in volunteerism and sweat equity. 
"Together, they have allowed the Fondren Renaissance Foundation to further its vision of making a difference in the lives of its inhabitants for the betterment of themselves, Fondren and the entire Jackson community."
Sondgeroth grew up in Mendota, Ill., and attended the now-closed Marycrest College in Davenport, Iowa. She later earned master's degrees in dietetics and health administration before taking over as president of St. Dominic's in 1995.
Since stepping down as president, Sondgeroth has served on the board of directors at St. Dominic's.
St. Dominic's Health Services has a 535-bed hospital located on Lakeland Drive in Jackson, as well as locations in Madison, Clinton and Flowood. The hospital has approximately 3,000 employees, including nearly 500 physicians and specialists.