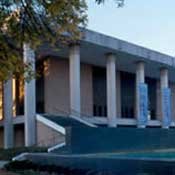 Today, Amazin' Lazy Boi performs during Live at Lunch at 11:30 a.m. at the Mississippi Museum of Art's Art Garden (380 S. Lamar St.). Bring or buy lunch; call 601-960-1515. Jackson Bike Advocates' monthly Community Bike Ride is at 6 p.m. and begins at Rainbow Whole Foods (2807 Old Canton Road). Find Jackson Bike Advocates on Facebook. The American Cancer Society's Relay for Life is at 6 p.m. at Millsaps College (1701 N. State St.). Registration fees vary; call 769-237-6011; visit http://www.relayforlife.org for more locations. The Lynch Street Cultural Arts Festival kicks off with a banquet at 7 p.m. at Masonic Lodge (1072 John R. Lynch St.), and the outdoor festival is April 28 between Rose and Dalton streets at noon. Tickets are $50, $500 for a table of 10 for banquet; free outdoor activities; call 601-352-6993. Marlowe and the Sea performs at 7 p.m. at Cups in Fondren. The play "Animal Farm" is at 7:30 p.m. at Actor's Playhouse (121 Paul Truitt Lane, Pearl) and runs through May 6. Tickets are $15, $10 seniors and students; call 601-664-0930. The Colonels play at Ole Tavern. 2Xtreme performs at F. Jones Corner. Need more options? See our Best Bets.
On Saturday, Gathering on the Green is at 10 a.m. at the Old Capitol Museum (100 S. State St.). Free admission; call 601-576-6920. The FIGMENT Art Festival kicks off at noon at North Midtown Arts Center and runs through April 29. The event is free; call 601-874-7993; visit http://jackson.figmentproject.org. The Mississippi Symphony Orchestra presents "We're Playing with Puppets!" at 2 p.m. at Thalia Mara Hall. Tickets are $15 and up; call 601-960-1515. Dancing with the Mississippi Stars is at 6:30 p.m. at the Country Club of Jackson (345 Saint Andrews Drive). Proceeds benefit Community Place. Admission is $75; call 601-355-0617, ext. 313. The Detectives Mystery Dinner Theatre presents "Cracked" at 7 p.m. at Parker House. Tickets are $48; call 601-937-1752 to RSVP. Ballet Mississippi presents "Collage" at 7:30 p.m. at Jackson Academy (4908 Ridgewood Road). Admission is $15, $12; call 601-960-1560. Dead Confederate plays at Martin's. Back 40 plays at Bourbon St. in the Quarter at 9 p.m. Admission is $5. For more events, check out the JFP Events Calendar.
On Sunday, The benefit concert to help cover costs for Kristen Thomas' double-lung transplant is at 1 p.m. at Hal & Mal's. Donations welcome; call 601-497-3660 or 601-497-5447. See the film "We Need to Talk About Kevin" at 5 p.m. at Russell C. Davis Planetarium (201 E. Pascagoula St.). Tickets are $7; for information visit http://www.msfilm.org. The GenerationNXT Indie Concert Series is at Dreamz JXN. Mairtin de Cogain performs and hosts a ceili at Fenian's. Admission is $12, $10 for Celtic Heritage Society members. Also, be sure to take some time to support a local restaurant such as Bon Ami, Two Sisters Kitchen, Julep, Cool Al's, or Cerami's. If you want more dining options, see
JFP Restaurant Listings and the Menu Guide.
Is something missing? To make sure your event is listed on the JFP calendars, send the information to [e-mail missing] or [e-mail missing], or add your event yourself. It's easy!