Wednesday, April 25, 2012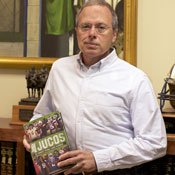 Football, football, football—Mississippi loves football. Maybe it's our "no-nonsense, don't mess with me; I'm southern and proud of it, gritty, get down and dirty" attitudes that make a good match for a "roughneck, take no prisoner, I will beat you down if you mess with me" game like football.
Some of the game's best-of-the-best either hail from or honed their skills in Mississippi. Among them are Brett Favre, Peyton Manning and Steve McNair.
Many of those greats grew up in the most rural parts of the state, and they probably stuffed themselves with cheese grits, ham hocks and turnip greens, just like me.
But Mississippi football holds a secret: junior college football. In "Mississippi JUCOs: The Toughest Football League in America" (Mississippi Sports Council, 2011, $24.95), X.M. Frascogna Jr. And his sons, X.M. III and Martin Frascogna, reveal the secret to the world.
X. M. Frascogna says the book's central topic and focus is football, of course, "but we enriched it to get into each school's culture," he told the Jackson Free Press. "All the schools have their own distinct story."
For example, against the pleas of Mississippi's powers-that-be, Jones County Junior College made history when its football team became the first in the state to play an integrated football team. The Jones team accepted an invitation to travel to Pasadena, Calif., and play in the Junior Rose Bowl in December 1955. Jones won the Mississippi Junior College Football Championship that year, but Pasadena City College won at the Rose Bowl, 38-9.
"There are 69 junior college football programs in 17 states of the United States. Mississippi has 14 programs ... more than any other state," the authors write in "JUCOS." Those programs include community colleges in Coahoma, Copiah-Lincoln, Hinds, Holmes, Itawamba and Jones counties, plus East Central, East Mississippi, Pearl River, Southwest Mississippi, Mississippi Delta, Northeast Mississippi and Mississippi Gulf Coast community colleges.
The elder Frascogna, 65, is a Baton Rouge, La., native who has been practicing law in Jackson since 1972. He says "JUCOS" wouldn't have been written without the help of the Mississippi Sports Council; his two sons, who assisted in the research and co-wrote the book; and Kamel King, an associate with his law firm, who also assisted in the research.
"The Mississippi Sports Council was started in 1995 to promote athletics in the state," Frascogna says. As MSC's legal counsel, he sat in on a meeting where council members discussed publishing a book about the rivalry between Mississippi College and Millsaps College. Frascogna recommended the council also publish a book on Mississippi's football culture, and the council commissioned him to fulfill that need.
The result was 2007's "Gridiron Gold" ($31.95), the first book he and his two sons co-authored, about legendary Mississippi high-school coaches. "Y'all vs. Us" ($34.95)—about 15 of the greatest high-school football rivalries in the state—followed in 2008. The council published "Bull Cyclone Sullivan" ($24.95), about East Mississippi Junior College coach Robert Victor Sullivan, in 2010.
While the trio's latest book is about Mississippi's junior college football programs, Frascogna was not a fan, initially. Visiting the schools and researching the book, however, transformed him into one of the programs' biggest fans. He calls the programs "cool," and says the schools are a great bargain from an educational standpoint.
The Mississippi Association of Community and Junior Colleges governs recruiting rules for its members in Mississippi. The association recently voted to reduce the number of out-of-state scholarships by half, and it banned international athletes from joining JUCO teams. Acknowledging that rules are always subject to modification, Frascogna supports the new rule and Mississippi players. "JUCOs are set-up for students in Mississippi and are funded by Mississippi, so kids in Mississippi should be given the first options," he says.
For Frascogna men, sports, the law and writing are family affairs. X.M. Jr. Participated in sports at every stage of his life. He played football for St. Joseph's High School in Jackson, was a sprinter on the Mississippi State track team and went on to coach his son's youth football programs. His son X.M. III, 39, played football for Notre Dame, and his youngest son, Martin, 35, played football at Millsaps. Both sons are also lawyers.
Judy Frascogna, X.M. Jr.'s wife of more than 40 years, was an avid tennis player. Their daughter, Nan, 37, is a pediatric emergency physician at the University of Mississippi Medical Center. She played all kinds of sports during high school, X.M. Jr. Says.
"Mississippi JUCOs," a documentary based on the book, is currently in post-production and tentatively slated for release in August. Like the book, the documentary covers the culture and towns of community colleges.
"It started out as a (small) project of the Mississippi Sports Council, but then got much bigger than we would've imagined," Frascogna says, with three different production companies involved, one local and two out of state. The filmmakers had to narrow their focus to six of the state's 14 programs: Itawamba, Hinds, Copiah-Lincoln, East Mississippi and Pearl River community colleges, and Jones County Junior College.
At the moment, Frascogna says he doesn't have other books or film projects in the works. "Gotta get back to practicing law," he says.
In Jackson find signed copies of the Frascognas' books at Lemuria Books (Banner Hall, 4465 Interstate 55 N., Suite 202, 601-366-7619).