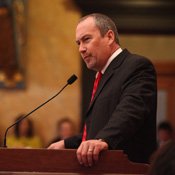 Herb Frierson doesn't draw large crowds. For example, the audience Frierson addressed at the John C. Stennis Institute's press luncheon yesterday was only about half its normal size. In introducing Frierson, Northeast Mississippi Daily Journal reporter Bobby Harrison recounted bumping into Frierson alone in downtown Jackson without a gaggle of lobbyists trailing behind.
But as the chairman of the Mississippi House Appropriations Committee, and the chamber's chief budget architect, Frierson has one of the biggest and toughest jobs in the Legislature.
Frierson doesn't seem to mind the relative lack of attention. He even started his remarks talking about new redistricting maps that will come out soon.
"It might even overshadow what's going on in the budgeting process -- and that's just perfectly fine with me if it does," he told at the Stennis audience.
Frierson's expectation of a heartburn-inducing budget preparation is probably warranted although legislators will have a little bit more money than previously thought, about $128 million more. He projected a fiscal year 2013 budget that's roughly $67 million larger than the current budget.
Most of the increase will go toward offsetting so-called one-time money, which includes sums such as legal settlements. He outlined improving education and keeping growth of health-care costs in check as budget priorities in the next few years.
Starting in 2014, an additional 100,000 Mississippians will come onto the state's Medicaid rolls due to a phase in of the 2010 Affordable Care Act, which the federal government will help pay for.
Frierson, surprisingly, stressed the need to shore up state revenues by scrutinizing tax credits and breaks, which he said officials should only give out to entities that can offer assurances that taxpayers will recoup their investment in a certain amount of time.
Responding to questions about the state's role in stimulating the economy through spending, Frierson said it was a philosophical debate. Although he conceded that Medicaid spending, for example, has helped build some hospitals and support services around the state that boost local economic activity, Frierson thinks taxpayers still get the short end of the stick.
"It's like defense spending," he said of Medicaid's contribution to the state's health-care economy. "It has an enormous economic impact, but it comes out of the taxpayers' pocket. How much goes back in (the economy) takes an economist, not an appropriations chairman."