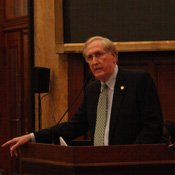 New legislative district maps are coming, which means some Democratic lawmakers could be on their way out.
Lawmakers have until the end of the legislative session to complete the once-per-decade task of redrawing the state's political boundaries. The drawing phase of that process is now finished, and it's expected that the public could see the new maps as early as this afternoon.
Rep. Bill Denny, R-Jackson, the House chair of the Joint Legislative Committee on Reapportionment, said this morning that he couldn't talk about the new maps, yet, because experts are vetting the plan.
Mississippi has 122 House and 52 Senate districts. The overall number of districts will likely remain the same, but some districts might be absorbed into areas where the 2010 Census shows significant population growth, such as DeSoto County.
"I'm anxious to see how creative they will be," said Ricky Cole, executive director of the Mississippi Democratic Party. "If Republicans attempt to get too creative or overzealous, they could very well run afoul of the Voting Rights Act and current case law."
Whichever plan the Legislature approves must meet U.S. Department of Justice approval because of Mississippi's history of black voter disenfranchisement. In Texas, a redistricting dispute has delayed the state's 2012 primary for months. African American and Latino voters accused the Republican-controlled Texas legislature of presenting a reapportionment plan that diluted minority voters, who traditionally support Democrats.
The Justice Department also rejected laws in South Carolina and Texas that require voters to present photo ID at the polls, arguing that the laws would have disproportionate negative effect on minorities. Mississippi, which approved a voter ID ballot initiative last fall, must pass enacting legislation before the end of the session.
Cole is anticipating a redistricting map that decreases the number of Democrats in the Legislature but wouldn't speculate on specific party members who might have to worry.
"If any current member (of the Republican-controlled Legislature) loses a district, it's going to be a Democrat," he said.