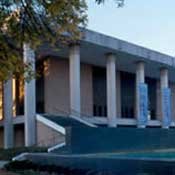 Today, Arts on the Square kicks off at 4 p.m. at Historic Canton Square; the event runs through April 21. Free admission; call 601-859-5816. Lawyerpalooza is at 5 p.m. at Hal & Mal's and benefits the Mississippi Volunteer Lawyers Project and the Mississippi Center for Justice. Admission is $5; call 601-969-9692, 769-257-5380 or 601-957-2600. ZooBrew is at 6 p.m. at the Jackson Zoo (2918 W. Capitol St.). The event is for ages 21 and up. Tickets are $25 and $20 for members, $10 shuttle from Fondren and Highland Village; call 601-352-2580. The Amnesty International DREAM Act Concert is at 6:30 p.m. at Sneaky Beans. Admission is $5; call 601-974-1338. Need more options? See our Best Bets.
On Saturday, Arts on the Green is at 10 a.m. at St. Andrew's Episcopal School, North Campus (370 Old Agency Road, Ridgeland) at Lake Sherwood Wise. Free admission; call 601-853-6000. See the West African opera "N'Ye'Re'Bia" at 5 p.m. at Adhiambo School (3424 Robinson Road). Tickets are $8, $4 for children; call 601-922-1184. Parents for Public Schools of Jackson's fundraiser An Evening of Hope is at 6 p.m. at the Arts Center of Mississippi (201 E. Pascagoula St.). Admission is $20; call 601-969-6015. The Battle of the Saxes is at 7 p.m. at Alamo Theatre. Tickets are $20; call 800-745-3000. The roller-derby bout between the Magnolia Roller Vixens and the Rocket City Rollers is at 7 p.m. at the Jackson Convention Complex. Tickets are $12 in advance, $15 at the door, $5 for children; [e-mail missing]. The Mississippi Opera presents "Elixir of Love" at 7:30 p.m. at Thalia Mara Hall. Tickets are $45 and up; call 601-960-2300. Marcia Ball and the Chris Gill Trio perform at 9 p.m. at Underground 119. Admission is $25 in advance and $30 at the door; call 601-292-7121 or 800-745-3000. The Nameless Open-mic is at 9 p.m. at Suite 106. Admission is $5, $3 to perform. For more events, check out the JFP Events Calendar.
On Sunday, Celebrate Earth Day at 1 p.m. at Farish Street Park. The event is free; call 601-291-7381. The Celtic Heritage Society's Blasta Wine Tasting is at 2 p.m. at Fenian's. Tickets are $25 in advance, $35 at the door, and $25 for members; call 601-366-6644 or 601-948-0055. Art House Cinema Downtown at Davis Planetarium (201 E. Pascagoula St.) features the opera "Rigoletto" at 2 p.m. ($16) and "Brake" at 5 p.m. ($7); for information visit http://www.msfilm.org. Percussionist Tatsuya Nakatani performs at 8 p.m. at The Commons. Tickets are $7; call 601-352-3399. Also, be sure to take some time to support a local restaurant such as Bon Ami, Two Sisters Kitchen, Julep, Cool Al's, or Cerami's. If you want more dining options, see
JFP Restaurant Listings and the Menu Guide.
Is something missing? To make sure your event is listed on the JFP calendars, send the information to [e-mail missing] or [e-mail missing], or add your event yourself. It's easy!