Wednesday, April 18, 2012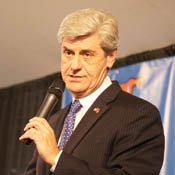 During his 2011 campaign for governor, Phil Bryant promised that, if elected, his administration would closely scrutinize state regulations on small companies.
"I'm going to look at every regulatory agency in the state, and if that regulation is hurting businesses, we're going to see if we can't do something about it," Bryant said at the Mississippi Economic Council's annual "hobnob" in November.
Speaking to another MEC gathering last week, Bryant applauded what he considers a step in that direction in the Legislature's passage of the Small Business Regulatory Flexibility Act.
The thrust of the proposal, which passed the House last week 114-7 and cleared the Senate in March without a single dissenting vote, is to create procedures to review possible economic impacts of state regulations on small businesses.
Under the law, which would take effect July 1, 2012, rulemaking bodies must consider possible adverse impacts of new regulations to a small business regulatory review committee. "Small businesses are critical to our economy, and this legislation ensures that our state's regulations are not unduly burdensome to our job-creators," Bryant said in a statement.
Also unduly burdensome is the process of drafting legislation. The American Legislative Exchange Council eases that burden by drafting one-size-fits-all legislation so lawmakers can concentrate on more pressing matters like closing abortion clinics and ridding their states of undocumented immigrants.
ALEC, which has been described as a matchmaking service for big money corporations and biz-friendly conservative Republican state lawmakers, has a model known as the Regulatory Flexibility Act, the language of which closely resembles the Mississippi proposal.
Senate Bill 2398 now awaits final approval in the state Senate.
Burdensome Regulation
One Mississippi small business Bryant and other legislative leaders don't mind heaping onerous regulations upon is the Jackson Women's Health Organization, the state's only state licensed abortion clinic.
On April 16, Bryant signed a bill that would require every doctor associated with an abortion facility to have admitting privileges at a local hospital. The bill would also require those physicians to be board certified or eligible in obstetrics and gynecology, and a staff member trained in CPR would have to be at the facility at all times.
Supporters of the measure, HB 1390, made no secret of the bill's intent. Gov. Phil Bryant, who co-chaired the failed Personhood Campaign of last fall, characterized the legislation as a way to "ensure that the lives of the born and unborn are protected in Mississippi."
In late March, Lt. Gov. Tate Reeves heralded its Senate passage. "We are very close to ending abortion in Mississippi," Reeves said.
The clinic could sue to block the law, which would restrict access to abortions in Mississippi, possibly in violation of Roe vs. Wade.
Charters Stalled
As of press time Tuesday evening, the Mississippi had not considered HB 1152, the charter schools bill. When the Senate bill met defeat in a House committee in the form of five Republicans, Sen. Gray Tollison, R-Oxford, tucked the language into another bill, bypassing the committee process. However, with the GOP's thin House majority, passage is no guarantee, especially if the holdouts remain firm in their opposition. Bryant has threatened to call a special session in event Legislature refuses to pass a charter schools bill.
Changes at Walnut Grove
Tuesday, the House concurred on a bill to transfer young prisoners out of the privately run Walnut Grove Youth Correctional Facility, which was at the center of a federal lawsuit and settlement over allegations of abuse. The plan calls for moving inmates from other Mississippi prisons to Walnut Grove and moving the youths at Walnut Grove to Rankin County, where the state-run Central Mississippi Correctional Facility operates. House Corrections Committee Chair George Flaggs, D-Vicksburg, said the Rankin County site is "not in close proximity" to the state prison, however.