Wednesday, April 18, 2012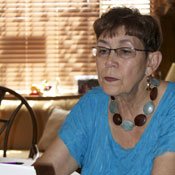 Since a special election in February, Joyce Jackson has claimed that widespread fraud marred her Ward 3 Jackson City Council election against LaRita Cooper-Stokes. Last week, Special Judge Richard W. McKenzie announced that Jackson will get to take her complaints to court.
Jackson's allegations came almost immediately after Cooper-Stokes won the runoff election to fill her husband Kenneth Stokes' City Council seat by 156 votes Feb. 28. Jackson's petition to contest the election, filed in Hinds County Circuit Court, details claims of election violations that are as various as they are numerous.
The former teacher's most shocking accusation comes from Precinct 12, where the lawsuit claims someone from the city clerk's office led the poll manager away from the polling room and into a kitchen. As the two walked away, a witness said they overheard the poll manager saying, "Yeah, several things I need to know cause I'm tired of these half-white niggers thinking they know everything."
Jackson, who is of mixed racial heritage, claims this statement shows an open bias toward her and violates people's right to "enjoy the exercise of their vote in non-racially charged and hostile atmosphere."
Her petition to the court also details claims of fraud including Precinct 12 workers allowing a radio playing campaign ads for Cooper-Stokes near voting machines.
In Precincts 20 and 38, Jackson claims that Cooper-Stokes' campaign workers were positioned in the polling place and at the entrances of precincts saying things like" "Are you coming to vote for Stokes? You voting for Stokes, not Jackson, right?" In Precincts 12, 18, 23 and 30, the appeal claims poll workers coached voters and assisted others with voting, without the voters asking for assistance.
Jackson doesn't just target campaign and poll workers in her complaint. At Precinct 23, the complaint says a Jackson police officer transported two or three people to the poll in his police cruiser, escorted them into the polling place and handed them off to poll workers who assisted them without them legally qualifying for assistance.
The runoff election between Jackson and Cooper-Stokes for the Ward 3 office was held after none of the 11 candidates received a majority vote in a special election Feb. 14. The elections were held to replace Cooper-Stokes' husband, Kenneth Stokes, after he was elected to the Hinds County Board of Supervisors.
McKenzie, a former Circuit Court judge from Hattiesburg, was appointed after four Hinds County judges recused themselves from the case. John Reeves, Jackson's attorney, said the judges did not give reasons why they recused themselves.
Comment at http://www.jfp.ms.
Previous Comments
ID

167654

Comment

Such a progressive, tolerant bunch in ward 3 it would seem.

Author

RobbieR

Date

2012-04-24T08:49:54-06:00