Wednesday, April 18, 2012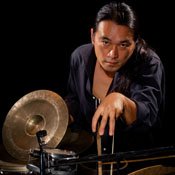 It will be a jam like no other when world-renowned percussionist Tatsuya Nakatani performs with a group of 10 musicians of different musical backgrounds at The Commons at Eudora Welty's Birthplace April 22. The Osaka, Japan, native will perform with his large bong cymbals with handmade bows; you'll have to show up to see what other musicians add to the improvisation piece.
This is the third time Nakatani has brought his cymbals and what he calls his "master classes" to Jackson. He lives in Easton, Pa., but travels the country and the world from Denver to Dublin teaching students to extend their technique or sound. He also does sound for soundtracks and collaborates with a number of musicians in an array of genres.
"There's no name for what I'm doing, so it's called experimental," Nakatani said.
What makes Nakatani unique is his ability to use broken cymbals or old instruments and find new purposes for them. Nakatani uses bongs and cymbals to create friction against each other while producing a different sound from another instrument.
Jonathan Sims, organizer of the event, said Nakatani's performances are some of the more powerful and exhilarating he has ever seen. "He catches you off guard no matter how many times you've seen him," Sims said. "He makes so much sound out of the cultural one-man ensemble."
Sims said Nakatani requested to have a workshop with a variety of musicians in the area from different musical backgrounds, from jazz to folk, on this visit to Jackson.
Nakatani said his love for creating sound sparked his interest in doing workshops to help students perfect their craft and collaborate while learning new music techniques.
Nakatani will teach the improvised music workshop April 22 from 2 p.m. to 5 p.m. (limit of 10 students) with a concert with the students following at The Commons at Eudora Welty's Birthplace (719 N. Congress St., 601-352-3399). $20 workshop, concert admission and time TBA.