Wednesday, April 18, 2012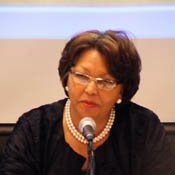 As a young student entering the University of Connecticut in the mid-1960s, James Lyons received all the parental advice one would expect about being respectful and not hanging around the crowd.
"No one advised me that I might lose my life," said Lyons, who is now the interim president of Dillard University in New Orleans.
Speaking through a recorded statement, Lyons participated in a discussion on issues facing African-American male students called "The African-American Male—Reclaiming Futures" at Jackson State University April 12.
Lyons was the first among the panel of university and college presidents and other top officials to address recent Mississippi shooting deaths, including that of JSU freshman Nolan Ryan Henderson in late March (another took place at Mississippi State University), which Lyons said took the lives of two future leaders.
The panel, part of an ongoing initiative between six institutions with large nonwhite student bodies, aims to foster academic achievement for racial minorities on their campuses, especially black males.
A 2009 Associated Press analysis found that even at federally designated historically black colleges and universities, 29 percent of black males completed a bachelor's degree in six years. Across HBCUs, the number of African American students earning Bas in six years was 37 percent, four percentage points lower than the national average. By comparison, four-year colleges on average graduated about 53 percent of incoming students.
Dr. Beverly Wayne Hogan, president of Tougaloo College, said the problems for black males did not start when they stepped onto campus but began early on in their lives.
As evidence, consider the graduation rates for African American males: Nationwide, the Schott Foundation's 2010 State Report on Public Education and Black Males found that 47 percent of black males graduated from high school, which closely mirrored the trend in Mississippi, where 46 percent of black males completed high school during the 2007-2008 school year.
In terms of school discipline, the report concluded that black males in Mississippi and Jackson Public Schools receive stiffer penalties than whites.
Schools handed out suspensions to 19 percent of black male students in Mississippi compared to 8 percent of white males during the 2006-2007 school year, according to the study. Likewise, based on proportions, black males were three times more likely than their white counterparts to receive school expulsions across the state.
Similarly, 19 percent of black male JPS students received out-of-school suspensions in 2006-2007 compared to 13 percent for white boys (district-wide, only 300 white males were enrolled in JPS during that period).
Hogan believes that black males are no less capable of achievement than their counterparts; they just need an environment that helps them build self-confidence.
"When I look into the faces of African American males who enter our gates, I see the future leaders of the world," Hogan said.
To help nurture that growth, Jackson State has launched the "Call Me MISTER" initiative modeled after a program at Clemson University in South Carolina that helps create a pipeline of African American male role models and teachers to the state's public schools and community-based organizations.
Dr. Mark G. Hardy, provost and vice president for academic affairs at Jackson State University, emphasized the kind of intergenerational mentoring that the Call Me MISTER initiative promotes, which will involve getting over the stigma that many young people have against volunteerism.
Overcoming stigmas and challenging stubborn perceptions is also critical, said Marcus D. Ward, associate vice president for development and alumni relations at Alcorn State University.
In addition to "breaking myths about masculinity" among black males, Ward said work is needed to change myths about black males held by what he called the perceivers.
"If you change the perceivers, the rest of the world will come along," he said.
Previous Comments
ID

167655

Comment

Interesting work indeed. I have researched the "Call me Mister" program and it is a great way to attract more Black boys to colleges and universities. But the professions they are geared towards are not lucrative enough to garner the numbers of black boys they would like. Working at schools and non-profits is great work, but until wages and perceptions about masculinity cahnge, these careers are going to continue to be dominated by women.

Author

Renaldo Bryant

Date

2012-04-24T09:55:20-06:00