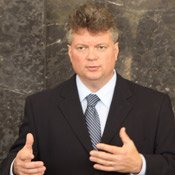 Mississippi taxpayers will receive the meaty sum of $4 million from a settlement in a case against the owners of a failed beef plant built with state-backed loans, Attorney General Jim Hood's office announced yesterday afternoon.
The suit involved charges of fraud and negligence in the design and completion of Facility Construction Management Inc.'s Oakland beef processing plant. Work on the plant started in 2002 and it was scheduled to commence operations in April 2004.
But, from the outset, the plant "experienced significant mechanical problems that resulted in a production rate well below the established 'break even' point," according to a press release from Hood's office. To help build the Yalobusha County facility, a division of Smyrna, Ga.-based Facility Group, Mississippi taxpayers put up $55 million in loan guarantees, which the state lost when the plant went belly up.
"A settlement was in the state's best interest," Hood said through a press release, explaining that the amount the state could recover would have diminished as time dragged on. Even if the state successfully proved fraud in the case, the Facility Management's insurance company would use a fraud exclusion clause--which precludes insurers from paying claims resulting from fraud on part of the insured entity--to prevent the state from collecting.
In a separate probe, federal grand jury indictments resulted in six Facility Group executives serving prison time. Among those individuals were the company's Chairman and Chief Executive Officer Robert L. Moultrie, Chief Operating Officer Nixon E. Cawood and Executive Vice President Charles K. Moorehead.
The scandal briefly ensnared former Democratic Gov. Ronnie Musgrove, who served from 1999 to 2003 and lost his re-election bid to Republican Haley Barbour. Moultrie, the former CEO, pleaded guilty to one count of "knowingly and unlawfully rewarding an agent of the government of the state of Mississippi with a gratuity" in violation of federal law.
In 2008, the Atlanta Journal-Constitution reported that Facility Group's political action committee contributed at least $45,000 to Musgrove. Prosecutors never charged Musgrove with a crime in the case.