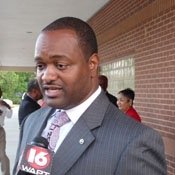 The Jackson Public Schools board has narrowed down its field of possible superintendents to two, but some parents say the district should search again for a candidate with more experience helping high-poverty, low-performing school districts become successful.
About 30 parents and community stakeholders met yesterday to discuss JPS' search for a new school superintendent. They plan to be at the school board meeting tomorrow night to ask the board to put out another call for applications in hopes of finding someone with experience turning around an underperforming school district.
Shmea Kelly, who has two children in JPS and one who graduated from a district school, said the next superintendent should have "experience being able to pull a district out of failure," as well as experience in a district with demographics similar to those in Jackson.
"We just feel that we need candidates that would best fit the needs of our students in JPS," she said.
The board is currently considering two men for the post--Dennis Carpenter and Cedrick Gray. Carpenter is the deputy superintendent for operations at the Newton County School System in Georgia, and Gray is the superintendent of Fayette County Schools in Tennessee.
Other parents, who did not want to be quoted by name, said the group did not get the feeling that the two finalists have a proven track record of turning around a district or that they will be able to move JPS forward.
The group also will ask the board to accept an offer from Jim Barksdale, founder of the Barksdale Reading Institute and interim executive director of the Mississippi Development Authority, to supplement the incoming superintendent's salary. In November, Barksdale offered to give the district extra money, if they needed it, to help attract the best candidate for the job. Some parents say the added funds might attract more people to apply.
Whoever becomes the next superintendent of JPS faces a series of challenges. The district is on academic watch, the middle academic accountability status, and more than 80 percent of its 30,000 students live in poverty. The state Department of Education will hold a hearing later this month to determine whether the district will lose its accreditation.
Legacy Comments
mmmm.... Who's BEHIND THIS "secret meeting" of concerned folks? Somebody is calling the shots-wonder who it is? Do you really think another application search would create a better pool of candidates? Probably what you might want to consider is a more open review of the candidates that didn't make the cut. I felt Dr. Carpenter could get the job done, I wasn't too sold on Dr. Gray. Money might buy also a better candidate? I don't know about that either, but it sure wouldn't hurt. Did the Board ever say why they turned Mr. Barksdale's offer down.
2012-04-16T13:53:24-06:00