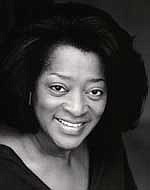 A Mississippi-born film actress will be in Jackson this weekend promoting the creative arts. Dr. Tonea Stewart is the keynote speaker for this year's Creative Arts Festival at Jackson State University.
As an actress, Stewart played Aunt Etta Kibbey on the TV series "In the Heat of the Night." She also had roles in the films "Mississippi Burning" and "A Time to Kill." She is currently dean of the College of Visual and Performing Arts at Alabama State University.
Stewart is from Greenwood and received her bachelor's degree from JSU, where she studied speech and theater. She returns to her alma mater this weekend to address JSU's 6th Annual Creative Arts Festival, organized by the school's Margaret Walker Center. The theme of this year's festival is the 50th Anniversary of James Meredith becoming the first African American to enroll at the University of Mississippi in 1962.
The Creative Arts Festival includes panels on topics such as the relationship between arts and activism, African art history, racial identity and politics and southern women. High-school, undergraduate and graduate students will present essays, poems, artworks and performances on a variety of topics. The JSU student who writes the best essay will receive the Margaret Walker Award, which comes with a $1,000 prize.
All events are free and open to the public.
Stewart received her master's degree in theater arts from the University of California at Santa Barbara and her doctorate in the same subject from Florida State University.
For more information about the Creative Arts Festival and a complete schedule of events, visit jsums.edu/margaretwalker/artsfestival2012 or call 601-979-2055.