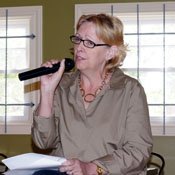 Juno and Rosie, the 31- and 39-year-old African elephants the Jackson Zoo gave up in 2010, are doing well in Nashville, the zoo's executive director Beth Poff reports.
"They're a lot fatter," Poff said this morning at Friday Forum at Koinonia Coffee House of her observations of the last time she saw "our girls," as she calls the pair.
The Jackson Zoo, one of the nation's oldest and the state's only accredited zoo, had to give up the pachyderms in part because its accrediting body, the Association of Zoos and Aquariums, requires a three-elephant minimum. The other option was to raise $10 million to acquire another elephant and expand the exhibit.
But after a difficult last few years, the Jackson Zoo is now in a good place of "forward motion," Poff said.
Poff enumerated a number of zoo improvements from recent months, including the installation of a splash pad to provide young visitors with a cool reprieve during the oppressive heat of the summer months and new bathrooms courtesy of the city. Poff joked that the old restrooms, which dated back to the 1940s, came within a hair of qualifying as historic landmarks, which would have made them impossible to replace.
In addition to aesthetic improvements, the Gertrude C. Ford Education Hall will also get some new displays, and the zoo will add a "Mississippi pride" display that highlights quotations of famous Magnolia State residents about conservation. Upgrades to exhibits for the zoo's hippo, tapir, gibbon and amur leopard--of which only about 40 exist in the wild--are also on the way.
In the fall of 2011, AZA president and chief executive officer Jim Maddy traveled to Jackson to recognize the zoo for its efforts in earning re-accreditation, making it the state's only AZA accredited zoo.
The U.S. Department of Agriculture also licenses 2,500 zoos around the nation, but the qualifications are not as stringent.
"If you cannot hit USDA standards, you are an embarrassment," Poff said.
In January, the relaxed standards for USDA licensed zoos came into focus during a raid in Collins where wildlife officials seized several animals, citing allegations of animal cruelty.
Last week, Covington County Circuit Court Judge William Barnett ruled the seizures violated the zoo's due-process rights.