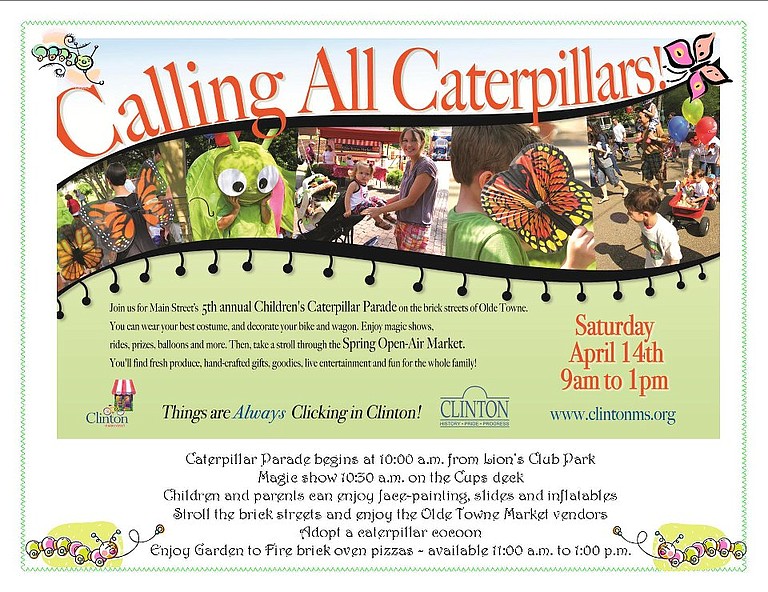 Today, the annual Spring Market kicks off at 9 a.m. at the Mississippi Trade Mart (1207 Mississippi St.) and runs through April 15. Admission is $8 or $15 for a three-day pass and children 12 and under get in free; call 662-890-3359 or visit http://www.themarketshows.com. Actor Tonea Stewart is the featured guest at the annual Creative Arts Festival April 13-14 at Jackson State University, College of Liberal Arts (1400 John R. Lynch St.). The event is free; call 979-3935. The American Cancer Society hosts the Relay for Life at 6 p.m. at the Richland Community Center's soccer fields (410 E. Harper St., Richland; call 769-237-6011) and Mississippi College's Robinson-Hale Stadium (200 Capitol St., Clinton; call 662-549-3729). Registration fees vary; for information visit relayforlife.org. The Crossroads Film Festival kicks off at 7 p.m. at Malco Grandview Theatre (221 Grandview Blvd., Madison) and runs through April 15. Tickets are $8 per film block, $20 for a one-day pass, or $59 for an all-access pass; call 601-345-5674; visit http://www.crossroadsfilmfestival.com for the film lineup and after-party details. Need more options? See our Best Bets.
On Saturday, the Susan G. Komen Race for the Cure is at 9 a.m. at the War Memorial Building (120 S. State St.). Proceeds go toward breast-cancer programs. Admission is $30 and up, $20 for youth; call 866-475-6636. The Traffic Jam Walkathon is at 9 a.m. at Sneaky Beans (2914 N. State St.); rally and concert at 7 p.m. Proceeds benefit the Hard Places Community's fight against child sex trafficking. Donations welcome ($100 recommended for fundraisers); call 601-942-0429 or visit http://www.traffickjamasia.com. KidFest! Kicks off at 9 a.m. at Freedom Ridge Park (235 W. School St., Ridgeland) and runs through April 15. Admission is $10, children under 2 get in free; call 601-853-2011 or visit http://www.kidfestridgeland.com. The 5th Annual Children's Caterpillar Parade begins at Lion's Club Park in Clinton (400 East St., Clinton) at 10 a.m. The Sante South Wine Festival at The South (627 E. Silas Brown St.) includes the VIP Tasting at 6:30 p.m. ($125) and the Grand Tasting at 7:30 p.m. ($80). Proceeds benefit the Alzheimer's Association of Mississippi. Call 601-987-0020. The Mississippi Symphony Orchestra presents "Chamber IV: American Elegy" at 7:30 p.m. at Galloway United Methodist Church (305 N. Congress St.). Tickets are $15; call 601-960-1565. Dirty Play performs at Bourbon St. in the Quarter. $5 cover. For more events, check out the JFP Events Calendar.
On Sunday, Jackson Restaurant Week kicks off and runs through April 21. Dine at participating restaurants and vote for a charity to receive $10,000. Visit http://www.jacksonrestaurantweek.com for locations. The Jackson Irish Dancers' Mostly Monthly Ceili is at 2 p.m. at Fenian's. Free; visit http://www.jacksonirishdancers.org. Art House Cinema Downtown at 5 p.m. at Russell C. Davis Planetarium (201 E. Pascagoula St.) features the independent film "Perfect Sense." tickets are $7; visit http://www.msfilm.org. Coke Bumaye, PyInfamous, Slimm Pusha and more perform at the GenerationNXT Indie Concert Series at 6 p.m. at Dreamz JXN. Also, be sure to take some time to support a local restaurant such as Bon Ami, Two Sisters Kitchen, Julep, Cool Al's, or Cerami's. If you want more dining options, see
JFP Restaurant Listings and the Menu Guide.
Is something missing? To make sure your event is listed on the JFP calendars, send the information to [e-mail missing] or [e-mail missing].