Wednesday, April 11, 2012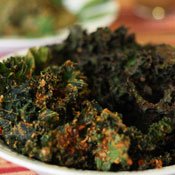 A super food packed with antioxidants and vitamins that's low in calories can sound boring and pious. Kale, much like many super foods, is not so arrogant, though. Its deep green leaves just need washing before chopping up into a salad or a wrap.
Some people find the strong flavor too much and prefer to juice it with lemons and drink it as a daily tonic. Others cook kale in soups or casseroles.
Recently, I became alarmed at news that some folks were baking kale chips. At first, I suspected this was chopped kale mixed into a dough of some kind. I lost interest. Then I came across a recipe that sounded too simple: It was just kale, a little olive oil and a little salt.
Since I had a bunch of kale in the fridge that I needed to use soon, I preheated the oven to 350 degrees, spread clean kale leaves on some foil, sprayed some olive oil on and placed the experiment in the oven. It failed miserably. I had a mess of wilted, sad greens. To get rid of the evidence, I cut the droopy, sad greens into tiny bits and added them to a summer squash casserole evolving in the slow cooker.
I figured out immediately what I did wrong with the kale chips. The oven should have been at a lower temperature. I needed to dry the kale and spread much smaller pieces so they didn't overlap.  I wasn't sure I wanted to risk kale chips again. There are only so many ways to hide wilted greens. A couple of days later, though, I tried again.
Like stiff lace on a ruffled Elizabethan collar, the curvy edges of kale covered a lot of space when smoothed out. After drying the rinsed leaves, I tore them into 2-inch strips. A little olive oil, a little salt and a little patience paid off. This time, the chips were crispy. The tissue sensation reminded me of super thin potato chips. The kale flavor is there, reminiscent of broccoli or cabbage, but I didn't mind. I got my snack fix.
Kale Chips
1 bunch of kale
1 tablespoon olive oil
Salt or other seasoning to taste
Preheat oven to 300 degrees. Rinse and dry the kale leaves. Tear the kale into bite-size pieces. Do not use the stalks. (Save these for a soup or take them to the compost heap.) Sprinkle oil on the pieces and put them on a cookie sheet. Season to taste.
Bake for 20 minutes.
Makes six standard servings, or a huge, guilt-free snack for one.
For more mouth-watering treats and tasty eats, chow down over at our Food Blog and the JFP Bite Club Facebook page, and follow the aroma on Twitter. Be sure to bring your appetite!