Wednesday, April 11, 2012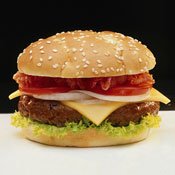 A few years back, I stopped eating ground beef. I did not like seeing the white fat and gristle, and the smell of the meat while cooking completely grossed me out.
Years later, I found out that beef—high in saturated fat—is not particularly good for you. It also takes longer than other meats to digest, and I already have digestive problems. It was enough for me to stop eating beef altogether.
More recently, the media have discovered "pink slime," aka "lean finely textured beef." LFTB is "largely trimmings typically used for pet food and cooking oil," Reuters reported. "The trimmings were treated with ammonia to kill dangerous bacteria" such as salmonella and E. coli, "and mixed into ground beef." Experts say that up to 70 percent of hamburger meat in grocery stores, at fast-food restaurants and in school lunches contain pink slime. Ugh.
I love turkey, and I use it to replace beef in many recipes. Most people do not realize they are eating ground turkey instead of ground beef when I cook.
I created this awesome turkey burger recipe when I was still living in California.
Gourmet Turkey Burgers
For the burgers:
2 teaspoons olive oil
2 pounds ground turkey
1/2 cup red onions, chopped or diced
1/2 cup bell peppers, chopped or diced
2 to 4 tablespoons of Moore's Hickory Marinade (original)
A few dashes of seasonings such as garlic, onion powder, gourmet seasoning salt and pepper
6 hamburger buns
For toppings:
1 cup sautéed red onions
6 slices Swiss cheese
4-5 jalapenos, sliced (if you like spicy)
1-2 teaspoons of your preferred spread: honey, Dijon or spicy mustard, ketchup, barbecue sauce, or mayo (barbecue sauce adds to the gourmet taste).
In a large skillet, heat the oil on medium. Add a cup of red onions (for topping) and sauté for three to five minutes. Remove onions from skillet and place to the side.
On a plate, season ground turkey and add marinade, chopped onions and bell peppers. Grab a handful of turkey meat and mold into six medium patties.
Place as many patties as you can fit without overlapping into the skillet on medium heat. Brown each side of the patties until medium to well-done, about 10 to 15 minutes per side. Remove patties from the skillet and place to the side in a clean, uncovered dish.
Spread honey, Dijon or spicy mustard, ketchup, barbecue sauce or mayo on both sides of the hamburger buns. Place patties on the buns, topping them with Swiss cheese, sautéed onions and jalapenos. (Beware if you have acid reflux: Spicy and acidic foods such as jalapenos and onions can ruin your night if you eat them too late in the day.) Serve while still hot.
Makes six servings.