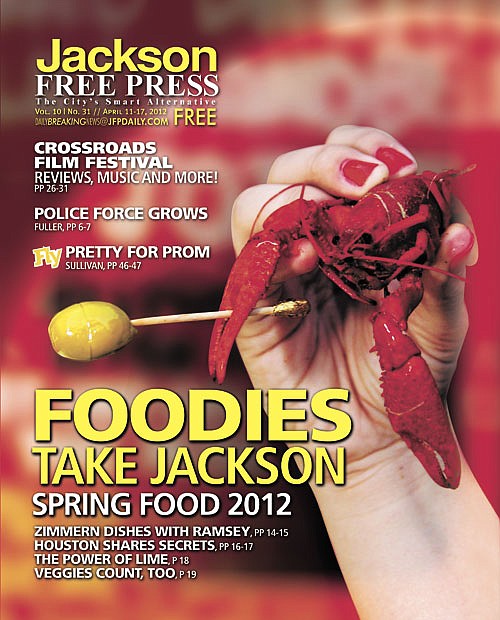 Wednesday, April 11, 2012
The Friday before PM Soul, a pop-up food event last fall at Peaches Café on Farish Street, I got a call from a number I didn't recognize. I was in the middle of dinner service at Underground 119 and didn't have the time for a chat, so I ignored the call and kept at it on the hot line. When the same number called a second time in 10 minutes, I figured I should answer and stepped out to a quiet spot behind the restaurant.
The caller identified himself as Dean Carpentier, a producer with Andrew Zimmern's "Appetite for Life," the James Beard Foundation award-winning food writer's online food-travel series.
I was glad I took the call.
Dean said he had read an article that I wrote for the Jackson Free Press about Craig Noone and PM Soul and asked if we would allow them to come to Jackson and shoot an episode of Zimmern's show at the event. My response was, "Sure, but you do know that it's on Monday, right?"
Indeed, they didn't know when it was, and Monday was way too soon for them to prepare. Not wanting to let this opportunity slip away, I volunteered: "We can always do another event for you. Just tell me when you want to come to Jackson."
Six weeks after that conversation, the Appetite for Jackson event took shape, and with the help of a great team (lead by Dominic DeLeo and Marika Cackett) we welcomed Zimmern and his crew to a great downtown event with 4,500 people listening to local bands while eating local food and drinking craft beer on a perfect Saturday in January.
Over the course of the shooting and the weeks following (including a return visit to Jackson for yet another shooting), I got to know Zimmern a little better and convinced him to do a short interview about his experiences in Jackson.
First of all, thank you for all you've done for Jackson here in the past few months. Your presence has energized our food community knowing that the No. 1 fan of durian (fruit) made it to Jackson, Mississippi.
Ahh, durian. Seriously, it's going to be good for the city when the show airs. I've seen it with communities all over the world with our show, and it's just a wonderful thing for people who live around the area to say, "Oh my gosh look what's going on; look how cool our own hometown is." It's nice.
Did you have any preconceived notions about Mississippi?
Well, I've been before, but I will say we talk about the preconceived notions all the time ... from a shooting standpoint. You know: people with no shirts in overalls standing around on the side of the road with big straw hats on and pieces of straw coming out of their mouth is something that a lot of people think of when they think of the South in general.
Yeah, and they're clearly thinking of Arkansas.
Clearly. When we were looking at census data—you know, the sort of mundane numbers crunching when we're looking at researching a show—we found some interesting facts. Mississippi is one of the states in the union with the highest number of people born there who still live there. And someone at one of our meetings said, "Well, that's because not a lot of people are moving there."
And I said, "Well, maybe the way to think about it is that there's so much great stuff there people don't want to leave." I've not been to Mississippi in August, so I just need to be honest, you know? But Minnesota (where Zimmern now lives) in January is no walk in the park. All that I saw when I was down there (in Mississippi) was fantastic people, great communities, great food, good times. It was wonderful to see.
It was also wonderful to see neighborhoods in transition. When we go into a neighborhood like where the Big Apple Inn is (on Farish Street), and where some people see what is not so pretty and anything that looks a little down on its luck, I see opportunity. I was sitting outside with the security guys and just watching the neighborhood kind of go by. I was probably only standing outside for 15, 20 minutes, but all you see on the people walking around are smiles. All you get from everyone is a happy "hello," and they look you in the eye. I'm sort of an eternal optimist. I just see Mississippi as a really wonderful place to visit. You know? I can't wait to go back.
Speaking of which, are you going to come back for the next Appetite for Jackson?
We sure are. As a matter of fact, as soon as you know a date for anything, we want to know and stick it on our calendar and make that something we can follow through on.
What did you think when you stepped out of the car and saw the size of Appetite for Jackson?
Oh my gosh, it was fantastic! I loved, loved the energy there. And I also like something about cities your size where an entire community really can gather in one place.
I mean, you don't have that in a city like New York. It's impossible. It's a different mechanism.
But to see so many people so revved up all in one spot, I think that says a lot about community. And it was wonderful to have the shoot for "Bizarre Foods," hot on the heels of Appetite for Jackson. ... We bumped into a couple of people who weren't at the one we were at last January, and every single one of them was like, "Yeah, we can't wait to be there for the next one."
I thought to myself, "That's really, really cool," because it shows that whatever it is that was going on when I was down there the first time, it worked, and they want more of that. And it had very little to do with me; it was more about the energy of the community to see all of their other friends represented there. It was really slick.
We were really proud of the turnout.
And the food was really good.
That was my next question. Mississippi food: Everybody thinks of it as soul food smothered in gravy and fried.
Yep.
What was your biggest surprise eating in Mississippi?
The biggest surprise eating in Mississippi was how wholesome the food was everywhere. Second biggest surprise was growing seasons. Anytime that I've been there, we've had local produce, even if it's from all the way down in the southern part of the state. (I also liked) the fun regional influences. I mean, the whole tamale trail is just deliciously hysterical.
Interestingly, I always draw parallels here to Minnesota. Everyone always thinks of Minnesota as fly-over country until all of a sudden things like home preserving and pie making and kitchen arts became just as highly regarded as fancy, multi-star, molecular gastronomy was. I think it's the same thing with Mississippi. ... I just love it. And clearly, clearly there's a market for all kinds of foods there. What we saw in Oxford, what we saw in Jackson, what I've seen in Biloxi, what I've seen all over the state has just been fantastic.
Did you feel that sense of family with all of the different chefs when you were here?
Oh, gosh, yes. It has everything to do with the food world at large. Mississippi is just reflecting what's going on everywhere else, which is that the food community has realized that competition is the best possible thing that could happen, and it's going to happen no matter what, so you might as well accept the fact that you're competing for dollars with the guy down the street.
However, it's in everybody's best interest to promote the hospitality business in your own community because you don't want people who are just going out for Mother's Day, Valentine's Day and birthday. You want people to embrace the concept of dining out as a lifestyle issue, and if they're not regular restaurant goers, you want them to be regular restaurant goers. That means you want them to have fun at your friend's place because they're going to come to you three nights later. The rising tide floats all boats, and I think it's extremely evident in the restaurant community. Guests having fun makes that tide rise.
Now, speaking of fun, you were live-tweeting like crazy during the dinner that Jesse Houston (Parlor Market chef) did for you—both times. Was that something else that surprised you coming out of Jackson?
The first time, yes. When we went to Parlor Market, and I had my birthday dinner there, you kept telling me about this food and this guy doing some great stuff, so my radar was up. I was very, very impressed. And I was very impressed the second time around as well. I was even impressed the third time when I showed up the next morning, and he did a couple of dishes with me on the show—some catfish dishes—and he debuted his catfish cracklin' concept. I don't know if you've had a chance to taste it, but it's genius.
I said to myself, "You know, this is a very, very interesting young man," because when you're 30 years old, and you've got that kind of talent, it's really easy to want to do everything yourself, but the new generation of chefs, they're so collaborative, and everything he was doing involved his whole team.
We stuck around for lunch afterwards; he had his in-laws, did a crawfish boil, and he had his whole crew there. It was a great example to me of how inclusive this generation of chefs are.
Thirty years ago, when I was cooking in New York City as a young line cook, you never would have had that—never. Never would have happened. It was not a team concept. It was just the chef and sous chef as the developmental team. Everyone else just executed, which was fine for me. Personally, I didn't have a lot to contribute back then. I was learning. It was a different environment, and you certainly wouldn't have had the type of camaraderie that you see both in the individual restaurant and outside of it in the community, in the restaurant community at large.
I will say, there's a lot of really great food that's going on down in Mississippi, and I think guys like you and Jesse are just great examples. We see the exact same thing happening here in Minnesota—chefs who see an opportunity to have a life, build a restaurant and establish something.
You don't have to be in Chicago, L.A., San Francisco, New York or Boston; you can do it anywhere that you want to raise a family. I just think it's a beautiful, beautiful story.
I'm excited about the food, and I'm talking about the food scene in Mississippi in general that way.
It's something that's developing; (it) reminds me of what was going on here in Minnesota seven, eight, 10 years ago.
You touched on local produce earlier. Have you been down here when tomatoes are at their peak in the summertime?
I sure have. ... Nobody ever plans a menu and says, "Let's remind people that our fish is fresh, not frozen." I think these days it's almost expected that you're sourcing locally, and you're using the best ingredients you can. Customers are starting to expect, and even demand, that what you serve is fresh, local and sustainable. To me, that's what the hospitality industry has become. If you want to rise above the corporate-chain world, you have to demonstrate your sense of place and exploit what grows around you.
That being said, what's great about Mississippi is you're in a part of the world where your growing seasons are extended, and what you can produce throughout the fall is just insane. All over the South, I've discovered treats and tidbits and vegetables and fruits that I've never seen before or experienced.
And you're not going to find a hustling, young, ambitious chef making, you know, cracklins out of catfish skin in South Dakota. It's just not going to happen. You have to be somewhere where the DNA of the catfish is in everybody's lifeblood.
I can't wait to see what comes next out of the South and Jackson in particular. You're on a great path.
Thank you for your time. We really look forward to seeing you again soon in Jackson.
And I look forward to coming back.
Underground 119 chef and food writer Tom Ramsey is a lobbyist, former investment banker and tobacco executive who teaches private cooking lessons, writes poetry, runs with the bulls and produced an album or two.
For more mouth-watering treats and tasty eats, chow down over at our Food Blog and the JFP Bite Club Facebook page, and follow the aroma on Twitter. Be sure to bring your appetite!