Wednesday, April 11, 2012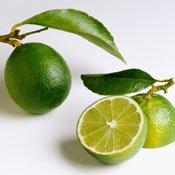 Limes may be small, but they pack a large, flavorful punch. Both tart and sweet, limes complement an assortment of dishes and beverages. Limes are in the citrus family (related to lemons, oranges and grapefruits) and a good source of vitamin C. There several different varieties of limes:
• Persians or Tahitians are the limes you are most likely to find in the produce section of your local grocery store.
• Mexican or Key limes are smaller with a pale, yellowish-green skin and are more acidic.
• Kaffirs produce very little juice and have a pebbly texture. The leaves and zest are often used in Thai cuisine.
• Kalamansi or Calamondin limes, used in Philippine cuisine, are small and orange in color.
• Rangpurs, a hybrid of a lemon and mandarin orange, are used in pickling, candying and for marmalades.
Basmati Rice with Cilantro Pesto
3 to 4 cups of basmati rice, cooked (is it 3-4 cups before you cook it or after it's cooked?)
1/2 cup of chopped cilantro leaves, stems removed
1 garlic clove
2 tablespoons of fresh limejuice
2 tablespoons of olive oil
1 tablespoon of butter
Salt and ground pepper, to taste
Prepare rice according to the package directions. While the rice is cooking, combine the cilantro, garlic and lime juice in a food processor. Pulse on and off until mixture has a consistent, but still chunky, texture. Add salt and pepper to taste; pulse once or twice more time to combine. Spoon mixture into a small bowl and whisk in olive oil. Set the pesto aside.
When the rice is done, drain and rinse with hot water. Transfer to a large bowl and fluff with a fork. While the rice is still hot, add the butter and the cilantro pesto. Stir gently to combine.
For more flavorful rice, boil the rice in chicken or vegetable broth instead of water. (serves how many?)
DID YOU KNOW?
• The Jelly Belly Candy Company, started by German candymakers Gustav and Albert Goelitz, has lime, Sunkist lime and mojito-flavored jellybeans.
• Sprite, lemon-lime flavored soda, is sold in about 190 countries. The beverage was introduced in 1961 by Coca-Cola and is often sipped to help calm a queasy stomach.
• The slang term "limey," originally referring to British sailors, started in the 19th century when Navy ships kept ample supplies of lime juice to combat scurvy. Today, the word is a derogatory term for English people.
Green Sun Tea with Lime
1 gallon of water
16 green tea bags
1/2 to 3/4 cup of honey
4 limes, juiced or sliced
Wash a 1-gallon sized jar and add the tea bags. Fill with water and screw on the lid securely. Place the glass jar outside in a sunny area where it will receive direct sunlight. Allow the jar to steep in the sun for three hours.
After bringing the jar inside, fish out the tea bags with a slotted spoon. Add the limejuice, or lime slices, and honey; stir to combine. Chill tea in the refrigerator. (serves how many?)
For more mouth-watering treats and tasty eats, chow down over at our Food Blog and the JFP Bite Club Facebook page, and follow the aroma on Twitter. Be sure to bring your appetite!