Wednesday, April 11, 2012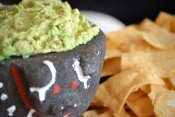 With as many restaurants in Jackson, there are tons of tasty bites here and there. Here are a few to whet your appetite.
Red Lentil Soup at Aladdin Mediterranean Grill
730 Lakeland Drive, 601-366-6033
Soup is one of my favorite comfort foods. In my humble opinion, the best soup in town is the red lentil soup at Aladdin. It tastes completely different from any homemade lentil soup in my kitchen or any canned lentil soup I have ever found. It is tangy, filling and all too easy to inhale a bowl even in the midst of great dinnertime conversations.
Field Greens Salad at Bravo! Italian Restaurant and Bar
4500 Interstate 55 N., Suite 244601-982-8111
As a vegetarian in Mississippi, I have grown accustomed to restaurants where my only options are French fries, a salad and the entire dessert menu. As a result, I really appreciate a good salad. Bravo has several delicious vegetarian meal options, but whatever I pick, I always choose to start with the field greens salad topped with the citrus vinaigrette. Hits the spot every time.
Pitatilla at Keifer's
705 Poplar Blvd., 601-355-6825; 120 N. Congress St., 601-353-4976
Don't tell my doctor, who cautioned me against eating feta cheese when I was pregnant, but even when I was carrying my son, I could not resist the spicy feta goodness of the pitatilla, some hummus or cottage fries, and a glass of water on the porch at Keifer's.
Guacamole Made Tableside at Babalu Tacos & Tapas
622 Duling Ave., 601-366-5757
There is something especially decadent about eating out when the food is prepared right in front of me, perhaps because I so often find myself on my feet and waiting on others in my daily life. The server mixes fresh ingredients right at the table and even personalizes the ratio of cilantro, lime juice and red onions to fit your individual taste. Heavenly.
For more mouth-watering treats and tasty eats, chow down over at our Food Blog and the JFP Bite Club Facebook page, and follow the aroma on Twitter. Be sure to bring your appetite!