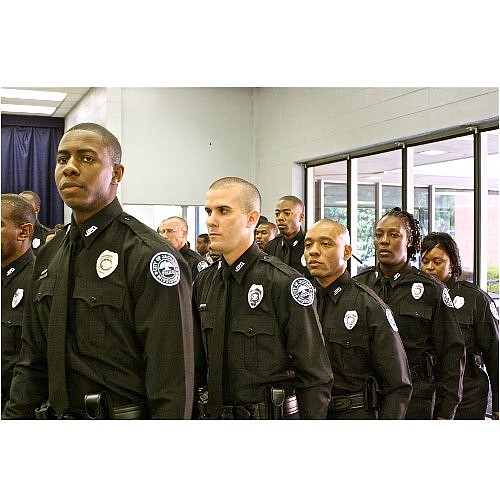 Wednesday, April 11, 2012
The 49th basic recruit class of the Jackson Police Department graduated Friday from the Jackson Police Training Academy. The class of 24 recruits moves the department closer to Chief Rebecca Coleman's goals for patrol size and overtime reduction.
JPD's current goal is to reach 500 active officers, although the city has the budget for 525, Coleman said. With many officers who can retire at any time and others who will leave for other law enforcement jobs, Coleman said JPD will not stop hiring new recruits if they reach 500. With Friday's graduation, the force has 483 officers.
"That's a goal that we would like to achieve, but at the same time, I still stress to those individuals who are doing our recruiting that we want good, qualified officers," Coleman said. "We want to make sure that (those) 500 officers are officers that are deserving of being in a Jackson Police Department uniform."
The 2010 census showed that Jackson has a population of 173,514. That means there is one Jackson police officer for every 359 residents of the city. If the department reaches its goal of 500 officers, it will mean one for every 347 residents.
Coleman said more officers means more visibility of law enforcement in the community, which deters criminals and ultimately means less crime.
"These 24 additional officers will be assigned to the precincts, but they will be in two-man cars, because they have to go through the training process," Coleman said.
"This past week, we had 33 officers from the last class who were cut loose from training. They were initially in two-man cars. Those officers now are riding solo in the precincts. That means you have more beat cars in the precincts. And it's been proven, anytime you have more visibility of officers, the less likely crime is to occur."
At 483 officers, the size of JPD sits about in the middle of similar-sized state capitals. The Little Rock Police Department in Arkansas, which services a city population of 193,524, has a force of 550 officers, or one officer for every 351 residents. The department will add another 15 officers with their upcoming graduating class. On the other side, Tallahassee, Fla., population 181,376, has a police force of only 355 officers, or one for every 511 residents, and currently has a recruiting class of six scheduled to graduate in early June.
Coleman said JPD leaders attend national and international police conventions and keep in touch with other, similarly sized cities throughout the year.
"We're not operating in a vacuum," Coleman said. "We have a network with other law enforcement agencies. When things come up that are affecting the city of Jackson, we contact them to see if they have similar problems, and we draw on that."
Crime has gone down in most of Jackson since this time last year, despite little to no increase in the number of officers. JPD officers expect the increase in patrols to further reduce crime in the city.
At this time last year, JPD had a force between 455 and 460 officers, according to Assistant Chief Lee Vance. With 459 officers on duty last week, reported crimes were down from this time last year in all precincts except Precinct 1, which covers most of south Jackson.
"We're putting some strategies in to attack that," Vance said. "The commander has assured me that in the second quarter of this year, we're going to be in the negative as far as crime production in (Precinct 1).
"One of the things we've found effective as a crime-fighting tactic is high visibility. That's why you hear us talking so much about numbers.
"The more officers you have on the street, the more visible force you can put out there. And that's an automatic deterrent to crime. While you do have some bold criminals in society, very few of them are going to commit crime in the presence of a police officer."
Mayor Harvey Johnson Jr. Gave an introduction speech at the graduation ceremony. He pointed out that there is more to police duty that preventing crime.
"Police officers do much more than catching criminals," Johnson said. "They teach people how to prevent crimes. They help people who are in difficult or dangerous situations. They offer understanding and empathy in times of tragedy and need.
"They are often in perilous situations caused by agents other than crime—working accident scenes, or when they are called on to help in rescue situations."
The city of Jackson has recently had problems with JPD, as well as the fire and public works departments, logging too many overtime hours. In February, when the numbers from the first quarter of the fiscal year were announced, the city had used 38 percent of the year's budget for overtime hours.
While most of JPD's overtime hours have come from officers' time in court and working at special events, much of the overtime logging has come from having too few officers to cover patrol beats.
"This will make a tremendous dent in the issue of overtime, simply because these officers will be assigned to two-man cars and we just finished putting the additional officers on the street," Coleman said.
The next JPD training class, made up of 23 officers, will start April 15, and another will start in October.