Wednesday, April 11, 2012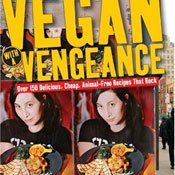 I am 30 years old, and I am still searching for my perfect cookbook. Now, as a busy mom of a busy 2-year-old, most nights I cook easy, healthy foods off the top of my head—spaghetti with marinara sauce and a side of green peas, rice and stir-fry vegetables, sweet potato and kidney bean quesadillas with guacamole. But when I need a cookbook, these are the ones I reach for most often.
"How to Cook Everything Vegetarian: Simple Meatless Recipes for Great Food" by Mark Bittman (Wiley, 2007, $35)
It is hard to beat Mark Bittman's cookbooks and his frequent recipes in The New York Times. If I could only keep one cookbook on my shelf, it would be this one, because it is so simple and versatile. Bittman introduces every kind of fruit, vegetable, grain and legume you can think of, and he describes how to prepare the food in a variety of basic ways. Then he includes lists of other ways to personalize each dish. Take the potato, for example. You can bake it. You can fry it. You can mash it. Bittman shares 15 toppings for baked potatoes, fillings for twice-baked potatoes, innovative flavor combinations for mashed potatoes, 10 ways to braise a potato, and the list goes on. With Bittman's cookbook, I can create a meal that is as simple or elaborate as I like, and I am certain to learn something in the process.
"Vegan with a Vengeance: Over 150 Delicious, Cheap, Animal-Free Recipes that Rock" by Isa Chandra Moskowitz (Da Capo Press, 2005, $17.95)
Cooking for a young child with a dairy allergy can be a challenge, but Moskowitz's book is a helpful tool in my adventures in cooking everything from scratch (because, you know, everything has milk in it). Moskowitz takes familiar recipes and gives them a delicious and innovative twist that the whole family can appreciate—such as a bean chili with cocoa powder and blackstrap molasses as the secret ingredients, or baked applesauce with grated lemon zest. Best of all, Moskowitz includes recipes for decadent desserts that you would never know were dairy-free, from chocolate rum pudding cake to the more kid-friendly homemade Fig Newtons.
For more mouth-watering treats and tasty eats, chow down over at our Food Blog and the JFP Bite Club Facebook page, and follow the aroma on Twitter. Be sure to bring your appetite!