Wednesday, April 11, 2012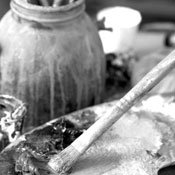 Friday and Saturday, April 13 and April 14, head to the Sixth Annual Creative Arts Festival in the Jackson State University College of Science, Engineering and Technology Auditorium. Friday, the opening panel is at 2 p.m., and a reception is at 6 p.m. in Ayer Hall.
Dr. Tonea Stewart delivers the keynote address Saturday, April 14 at 4:45 p.m. in the JSU Student Center Auditorium.
All events are free and open to the public. For more information, including a complete schedule of events, visit http://www.jsums.edu/margaretwalker/artsfestival2012.
Opening Saturday and on display through April 30, visit the Fourth Annual Ask for More Arts Student Exhibit at the Arts Center of Mississippi (201 E. Pascagoula St.).
Over the course of this school year, 16 Jackson public elementary and middle-school students have worked with local teaching artists to incorporate art into their school day. Their artwork is "thoughtful, creative and beautiful," states a release from Parents for Public Schools Jackson, the organization behind the Ask for More Arts program in the city.
For more information, visit http://www.ppsjackson.org/askformoreart.