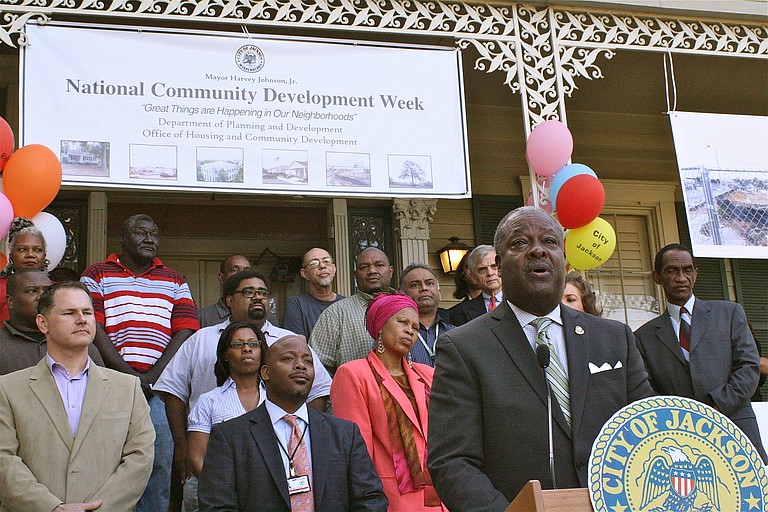 Federal cuts to the Community Development Block Grant (CDBG) program could hurt several areas of Jackson, from small businesses to sewage lines to services for victims of domestic violence.
Mayor Harvey Johnson Jr. kicked off National Community Development Week on Monday at the Municipal Art Gallery with a speech stressing the positive impact of the CDBG program and the dangers of the federal cuts the program faces.
"For the last 38 years, this federal funding has been utilized for community vitality (and) community development all across this country and certainly here in the city of Jackson," Johnson said.
"This is the only program throughout the nation that comes directly to cities for cities to make decisions as to how they're going to spend the money. And I think mayors and local units of government across the country have made good decisions."
Johnson said he is concerned about the cuts the program faces. He said the city will sign to receive $2.2 million this year. Last year the city received $2.7 million. He said if the current federal budget cuts go through, Jackson will receive less than $2 million.
The money supports non-profit organizations that provide services to victims of domestic violence and the homeless. It also supports government-run summer youth programs, the small business development program, which has allocated hundreds of thousands of dollars to small businesses, and even provides smoke detectors for elderly citizens.
Along with services, the Community Development Block Grant program also helps provide playground equipment in parks, sewer drainage replacement projects, and street-repair projects in low-to-moderate income neighborhoods.
On Thursday, the city will hold a National Community Development Expo at the Jackson Medical Mall from 10 a.m. to 2 p.m. The city will have booths set up to educate citizens on the grant program and hear their input on how the city can monitor and use the program.
"We receive funds each and every year from the CDBG program. We will continue to use those funds for community development activities (and) economic development activities here in the city of Jackson," Johnson said.