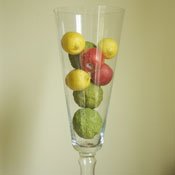 Why settle for a traditional wedding if you desire to go outside the box? If you're a minimalist, nature lover or just plain spunky, incorporate distinctive elements to personalize your special day. "More couples are opting these days for untraditional weddings that reflect their own personalities and preferences," writes Liz Pitts in "Planning Tips for Untraditional Weddings" on http://www.lifescript.com. "Embracing the notion that their wedding day is truly meant to be all about them, couples are getting creative and sometimes wild with the traditions surrounding matrimony."
Unique wedding ideas can change anything about the traditional wedding, including the itinerary, style and dress. Here are a few ideas to inspire you as you plan your wedding.
• Uniqueness can be simple touches. Replace the usual veil with flowers. If you are saying your nuptials on the beach, pretty your toes and throw away the shoes.
• Consider light, pastel colors for the occasion instead of white or ivory. Think pale pink, light blue or mint green as the color for the dress of your dreams.
• Consider a playground ceremony if you are a kid at heart and love the outdoors. A playground ceremony also allows accommodation for more than just adults. It might not fare well with adult guests, but the children are sure to have a blast—if they can stay focused on the bride and groom for the moment. A great example is Elizabeth and Eric's handcrafted playground wedding at http://www.tinyurl.com/7yqmtt6.
• A summer-themed wedding is perfect if the season is right. Call it sunburst and use coordinating hues of red, yellow, orange and lime green. The bride's dress is not a traditional white or ivory, but bright ruby red that sparkles. Instead of throwing rice, guests can have fun blowing bubbles into the air. Make the reception centerpiece a glass vase filled with fruit, and put a uniquely arranged centerpiece at each table: a mix of oranges, lemons, limes and strawberries in one vase, and in a different vase is a mix of apples, pears, lemons and cherries. Add a red-tinted sunflower, orange poppy or yellow marigold to top the centerpieces. Take a chance by entertaining your summer wedding guests with a live band playing summer tunes by Sly and the Family Stone, Billie Holiday, and Seals and Crofts.
• If you're having a winter wedding, plan to woo your guests with splashes of blue and silver. Perhaps the wedding colors are royal blue, silver, white and smoky gray. The bride's dress is silver, and the bridesmaids' dresses are white, royal blue and gray. The centerpiece at the reception is made of pine cones, pecans and sticks spray-painted silver, blue, dove gray and white. Instead of oldies but goodies and new pop's popular sounds, play Christmas music.
• If a wedding ceremony is not ideal for you and your future life partner, elope. Deciding to elope can be just as memorable as a lavish, expensive ceremony. It saves money, and then after the honeymoon, invite family and friends to share in the after-celebration. "Come home, announce the news and have a fabulous reception," http://www.catalog.com says.
For more fashion tips, tricks, and sales, check out this week's JFP Issuu and follow us on Twitter FlyJFP and FlyJFP Facebookfor sales and fashion news.