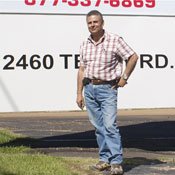 When Jackson Square Shopping Center was built in 1968, it was the largest shopping center in the capital city. With 350,000 square feet of retail, restaurant and office space on 40 acres, it is still the city's largest outdoor center.
California-based developer Jessie Wright purchased the property, located at 2460 Terry Road just off of Interstate 55, in February 2010, when only three operating businesses were open in the 30-space center: Bingo Depot, Bingo-Rama and Relevant Church. But Wright, a native of Los Angeles, saw the potential for something better. "I was out of my mind," Wright said with a laugh when asked why he purchased the property. "I purchased it because it has a potential to start thriving again as it did 25 years ago."
The center once housed stores such as a Zayre Department Store, TG&Y and Shainberg's Department Store. But businesses began to move out in the late 1980s and into the 1990s, leaving little more than a hollow shell for more than a decade.
Despite the neglect, the buildings are still structurally sound, an aspect Wright said attracted him to purchase the property. First Boise Investments, Wright's development firm that also owns properties in Southaven, Miss., and Birmingham, Ala., has replaced the facade on the front of the buildings with a new baby-blue look, repaved the parking lot and added 60 grass islands to the lot.
Of the 30 available spaces, Wright says he's leased 18, all to locally owned businesses. He expects all 18 to be open by April 6, when the center will host its grand re-opening as Jackson Square Promenade. Festivities will include a carnival in the parking lot April 2-8.
Patrons will find retailers, including $7 Shop Women's Apparel and A Perfect Fit Plus-Size Fashion; services, including K'Chell's Barber and Salon Boutique and Kids 1st Daycare; churches, including P.H.A.T. Church and New Direction Ministry; and restaurants, including Bernie's Sports Grill, Old Skool Club 101 and Regent Teen Club.
To get lessees on board with the development, Wright is offering up to four months free rent and no deposit, dependent on a credit check of the business and its owner.
Tonya Green, owner of A Perfect Fit Plus-Size Fashion, was looking for a job after American Family Mortgage, the real estate company she worked for, closed. She said she researched her options and decided to open a boutique. It was the incentives and the persistence of Wright and former property manager Kenneth Pope-Johnson that convinced her to open her shop in Jackson Square Promenade.
"Between Kenneth and Jessie, they wouldn't let me not come here. I think Jessie called me every other day," Green said. "They showed me a lot of spaces. When I saw this one, I was like, 'This is it, right here.'"
Wright has pushed her to get the store open by April 6. "We'll be working around the clock until then to get it ready," Green said.
Pope-Johnson announced March 20, via his Facebook page, that he had left his position as property manager for Jackson Square Promenade. Wright confirmed March 24 that Pope-Johnson was no longer working for him, and that Diana White had taken over as property manager.
Jackson Square Promenade will also soon be the home of the Hinds County Sheriff's Department. "This is 2,400 square feet of space for about 10 offices for the Hinds County Sheriff's Department," Wright said. "It has a conference room for community meetings and security issues in south Jackson area. They are moving in by mid-May."
Several potholes have resurfaced in the parking lot since it was repaved in April 2010. Phase 2 in the lot will include filling potholes and making any other needed upgrades. The phase will not be completed in time for the grand opening, though.
Future plans for Jackson Square also include a fitness center, complete with indoor swimming pool, and an 80,000 square-foot, open-roof amphitheater and concert hall.