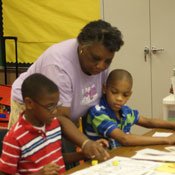 Jackson Public Schools is facing a hearing to determine whether it will lose its accreditation over failure to comply with changes to its special-education program recommended by the state, but district officials seem optimistic about the outcome.
The Commission on School Accreditation has scheduled a hearing for April 26. At the hearing, JPS representatives will present their reasons for why the district's accreditation should not be withdrawn.
Earlier this month, the commission held a teleconference meeting where members decided to hold the hearing about JPS' accreditation status. Parents for Public Schools of Greater Jackson sent staff to the meeting and posted a statement to its website saying that as of last September, 13 school districts in Mississippi were on probation.
"Basically, (the Mississippi Department of Education) said JPS was cooperating at this point and had begun to make corrections on some of the issues," said Carolyn Jolivette, interim executive director of Parents for Public Schools. "The hearing is when JPS will present all that it has done to make the corrections."
JPS board member George Schimmel told the Jackson Free Press that a large part of the problem is that JPS has not yet made all the changes to its special-education program that MDE has recommended.
"The concern is that we're not meeting the needs of our special-education students," he told the Jackson Free Press.
A spokeswoman for JPS Interim Superintendent Jayne Sargent said JPS is "glad to have this opportunity to meet with the accreditation commission," and feels confident about its responses.
Schimmel said that the district's problems go back to a previous administration, and Sargent is "doing all that she humanly knows to correct the problem."
"We're hopeful that we will be able to satisfy the Mississippi Department of Education," Schimmel said. "We know we need to do well by special-education students; we need to give them along with every student the opportunity to do the best that they possibly can, and we also know that it would be a tremendous loss to many of our students if we lost our accreditation and they were not able to participate in activities with other schools. It would be a tremendous blow to them."
Jonathan Larkin was on the JPS school board while some of the events leading up to the district's accreditation problems were going on, although he said the board wasn't really aware of them.
"That was the responsibility of the administration (at the time) of JPS, and they failed to provide the information to the board in a timely manner," he said.
Losing accreditation would mean JPS students could not participate in any after-school activities, including sports, band or choir, and students counting on scholarships from those activities could lose out, Larkin said.
Some colleges, although not many, might not accept students if they don't have a diploma from an accredited institution.
Larkin said, though, that taking over JPS would be an enormous responsibility for the Department of Education to take on, and it's in everyone's best interest to focus on moving forward rather than punishing the districts for the mistakes of a past administration.
"I know that Dr. Sargent is doing an enormous amount of work to try and correct it and is cooperating fully with the state Department of Education," he said.
Right now, the district's accreditation status is listed as "probation," the lowest status before accreditation is withdrawn. Accreditation statuses are different from accountability ratings, which are based on grades and range from Star District to Failing.
Each district is assigned one of four accreditation statuses--Accredited, Advised, Probation or Withdrawn--which depend on how well the district is complying with state-mandated processes and standards. JPS' rating has slipped from Accredited in the 2008-2009 school year to its current probationary status.
Representatives from the state Department of Education were not immediately available for comment.
Comment at http://www.jfp.ms.