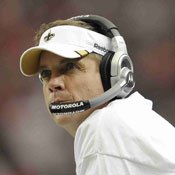 On March 21, the NFL laid the smack-down on the New Orleans Saints. After months of speculation, Commissioner Roger Goodell finally handed down his ruling, and it wasn't pretty.
"Bountygate" resulted in head coach Sean Payton getting suspended from April 1 until after the next Super Bowl. General manager Mickey Loomis is getting an eight-game suspension, and linebacker coach Joe Vitt got hit with six games out and a $500,000 fine. The Saints also lost two second-round draft picks, one this year and one next year.
Many Saints fans are up in arms over the NFL's ruling. That's no surprise; "fan" is short for fanatic. Even local columnist Rick Cleveland jumped on the fanatical bandwagon.
I understand that the Saints are, for many, Mississippi's NFL team, but let's not miss the point about why Goodell came down so hard on New Orleans: Putting bounties on players for "knockouts" and "cart-offs" is not good, clean football. Intentionally trying to hurt another player is not what sports should be about.
Cleveland tried to compare "Bountygate" with the New England Patriots "Spygate," but the two scandals have major differences.
First, the Patriots got caught in the first game of the 2007 season after one of their former coaches turned them in. NFL officials asked New Orleans about putting bounties on players in 2009.
Sure, it was hard for the Patriots to lie to the NFL when it had the confiscated tape (the Patriots started filming in 2000, but they were not caught until 2007), but the Saints lied outright to the NFL in its initial investigation.
Then, instead of shutting down the bounty program, they kept it up for an additional two years. Head coach Sean Payton claimed ignorance—until the NFL found this in an email: "PS Greg Williams put me down for $5000 on Rogers (sic)."
When investigators showed Payton the evidence—which had been sent to Payton from a "close associate"—during the course of the investigation, he admitted that it referred to a bounty on Green Bay quarterback Aaron Rodgers in the opening game of this past season. In other words, Payton lied until the NFL caught him red-handed. His mistake was not a youthful indiscretion. Sean Payton is a 48-year-old man.
Payton could have learned from recent college events that lying, looking the other way or trying cover up a scandal only make the punishment worse. Jim Tressel, of Ohio State University, and Bruce Pearl, of the University of Tennessee, got fired for lying and trying to cover up their mistakes.
Now, getting free tattoos and having basketball recruits at a cookout is not the same as putting bounties on other players. But the ways Tressel, Pearl and Payton handled their situations are similar. The only difference, so far, is that Pearl and Tressel got fired, while Payton still has a job. If he escapes with just a suspension, he should consider himself lucky.
In 2007, Goodell's punishment in "Spygate" was the harshest punishment ever given to a coach in NFL history. Bill Belichick had to pay a $500,000 fine.
Five years later, Payton and Saints fans should have known the league was going to come down hard. As head coach and the face of the franchise from a management standpoint, Payton should be held to a high standard.
Cleveland said everyone in the NFL has bounty programs. He equated it to traffic speeders: Everyone does it. But joining the crowd doesn't make you less guilty. New Orleans got caught, and the NFL made them an example to the rest of the league: If you have a bounty program, and you get caught, you will be punished.
One of the saddest parts of the mess is that his fellow union members selected Drew Brees to represent them against the league during the lockout. Little did those NFL Players Association members know that Brees' teammates might have had them on their hit list.
The NFLPA is conducting its own investigation. Protecting its members should be the association's highest priority. If their findings are the same as the NFL's, they should want the league to come down hard on players involved to show the rest of its membership that bounties will not be tolerated.
Goodell was right to come down hard on the Saints. New Orleans escaped a 2009-2010 season Vicodin scandal unharmed, and the team has not been a league favorite in recent years. The Saints have been pushing their luck and selling their souls in pursuit of a Super Bowl. Like a crooked college football program, all that pushing and selling finally caught up with New Orleans.
Instead of being mad at Roger Goodell, Saints fans (and columnists) should be upset with a head coach and general manager who brought down their team. Payton and Loomis made matters worse by looking the other way and lying.
The 2012-2013 season won't be remembered for play on the field but for those not on it. Saints' detractors will always believe their Super Bowl title is tainted, exactly like Patriots' critics do after "Spy Gate."
New Orleans deserved what it got, so far. Player suspensions are likely on the way.
Follow Bryan Flynn at http://www.jfpsports.com, Facebook and @jfpsports.
New Orleans Saints head coach Sean Payton got what he deserved from the NFL.
Michael C. Heber