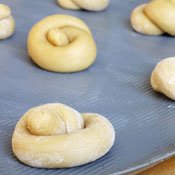 Most Easter suppers have three things in common: bringing forth thanksgiving, remembering the meaning of Easter and providing fellowship for family and friends.
Here are a few of the many time-honored Easter feasts around the globe:
The centerpiece of many Easter tables across America is a ham, prepared to the chef's liking. Side dishes such as creamy green-bean casseroles, yams with cinnamon and marshmallows, macaroni and cheese, and a variety of pies baked to perfection complement the ham.
In Tuscany, Italy, families enjoy Florentine love-knot cookies, folded to resemble a person praying, and Colomba, which is a type of dove-shaped bread. Pannetone, a fruit and nut bread, and a traditional Easter pie made with ricotta cheese are also favorites of this region.
Kulich is tall, cylindrical sweet bread that devotees in Russia, Ukraine and Belarus take to church on Easter Sunday, where a priest blesses it. The bread then becomes part of Easter dinner.
Brazilians eat Pacoca, a paste made with crushed, mixed nuts and other raw ingredients, along with clipfish, which are dry, salted cod, and an Easter ring cake.
Many Spanish Christians' Easter dinners include fish soups and asparagus with Spanish garlic mayonnaise. They use bread, milk, eggs and honey to create pastries, and then fry them in olive oil. The pastries are served with various sauces.
Greeks enjoy rice and lamb soup on Easter, made from the remaining pieces of a lamb killed on Good Friday. For dessert, they enjoy Greek Koullourakia, Easter cookies made with orange juice and topped with sesame seeds.