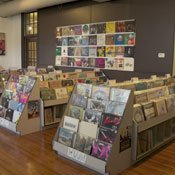 Drew McKercher has played music since high school with about four different bands including Roosevelt Noise and Spacewolf. Spacewolf is his main and most recent band; he has played with the group for two years. He and his wife, Sarah, a drummer, also play together as a duo.
Thursday, March 22, marked a "soft open first day" for the McKerchers new entrepreneurial venture: MorningBell Records and Studio. The grand opening weekend for the business was March 30 and 31.
"I felt that Jackson needed a record store, and I wanted to supplement it with beer, classic 'dead' soda brands that have been recently relicensed, and arcade games—just to be different from other music stores," McKercher said.
He also said that he wants to support local artists, and at least a dozen are already selling music at MorningBell.
"I always wanted to be self-employed and work for myself because it is better," he says.
McKercher worked at BeBop Records in Vicksburg for more than five years. "I am different from them because I am more than a music store," he says. "Vinyl is coming back because people like tangible things versus digital music. There is a large format of artwork displayed with vinyl, and digital music helps vinyl because now, when people buy vinyl records, they come with digital download cards."
The couple considered many locations to open their new business, but wanted to be somewhere where everyone would not mind driving.
"Fondren is a cooler part of town," McKercher says. He's hoping the new business won't just benefit that neighborhood, though, but serve music geeks throughout the area. "People don't have to go online to buy vinyl records anymore, so the store benefits the whole community," he said.
If you don't mind standing, every Tuesday night starting around 7 or 8 p.m., MorningBell will host performances by out-of-town and local bands promoting their Cds. For those brave enough, the open mic session on the same night is your time to "spit." Tuesday shows will usually end before 10 p.m.
"My goal is to help cultivate the music scene in Jackson and give younger people a place to come," he added.
The music studio will be up to full-scale by mid-April, and MorningBell will charge hourly rates for those wanting to record their tunes. The studio will also provide access to professional, commercial producers for musicians and singers who need those services; those fees would be negotiated separately.
MorningBell Records and Studio is located at 622 Duling Ave., Suite 212. For more information, visit http://www.facebook.com/morningbellrecords, or call 769-233-7468.