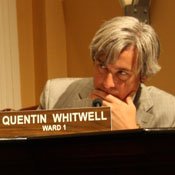 The Jackson City Council voted 7-0 this morning to hire the Overby Company to market and sell the former Dillard's store in Metrocenter Mall.
The Overby Company, a Jackson real estate firm that manages the Metrocenter Mall interior, will not receive payment for this work unless the building is sold. If it is sold, they will receive an 8-percent commission.
The City Council also requested that the Overby Company reach out to Sears to try to sell the store at Metrocenter it recently vacated.
Council Approves Amended Taxi Fare Raise
The council also voted 7-0 to approve raising taxi fares by $1. It took some time to get to the unanimous vote, though.
The measure included one of the three proposed amendments that Ward 1 Councilman Quentin Whitwell wrote. The approved amendment, which passed by a 5-2 vote, requires taxi drivers to go through mandatory hospitality training. LaRita Cooper-Stokes of Ward 3 and Chokwe Lumumba of Ward 2 cast the two opposing votes to the amendment.
Recognizing Champions
The City Council recognized the Jim Hill High School and the Callaway High School boys' basketball teams for winning state championships at today's meeting.
Jim Hill won the 6A championship, the school's first boys basketball championship since 1963.
Callaway High School boys won the 5A state championship, their third in four years.