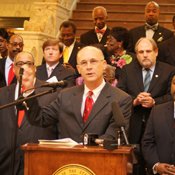 The fate of some of the most contentious bills this year rests with Sen. Hob Bryan, a Democrat from Amory.
Tomorrow is the deadline for committees to pass bills originating in the other house, or they die. Last week, Lt. Gov. Tate Reeves assigned an anti-immigration bill and an anti-abortion "fetal heartbeat bill" to the Senate Judiciary B Committee, which Bryan chairs.
Bryan will be the speaker at today's Stennis-Capitol Press Forum, a regular luncheon series that features various public officials and political candidates.