Wednesday, September 21, 2011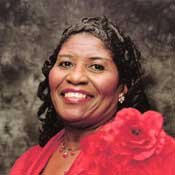 Addie Green has strong opinions about life's basic necessities. She is running for a seat on the Public Service Commission, she said, because water, phone and sewage bills are too high. The PSC approves utility-rate increases, answers complaints from the public, and decides whether utility companies should construct new facilities and who should pay for them. Green is running against incumbent Lynn Posey for the PSC's Central District seat.
Since 2009, Green has been an alderwoman in Bolton. She has also served as election commissioner for the city of Bolton and as president of a labor union that she helped found. She ran for public service commissioner in 2007 and lost. This time around she is trying to involve more young people to solicit their ideas for how to keep energy costs low.
Green studied sociology at Utica Junior College (now Hinds Community College Utica campus) and Jackson State University. She has three children and six grandchildren, but declined to give her age.
What made you decide to run for public service commissioner?
I ran to become educated, to help the community on the high costs of utilities from the area of electricity, gas, water and sewage, as well as the telephone communications. With land-line phones, we are having to pay almost $100 a month, and many times you are unable to use the services because (people are not home to answer their phones). Most of the marketers—you only receive calls from them. ... (As for) sewage, different municipalities are charging based on the water bill for the use of the water, and they charge you a fee in addition to just regular sewage.
... I want to be a part of (the commission) so that we can regulate (prices) so that everyone can have justice and affordability at the table. ... I'm running because the community is suffering. It looks like everyone has forgotten the mission of why we are here—to regulate and treat everyone with respect. With the usage, a lot of providers don't have to care for what it costs and pass it on to consumers, so that's one of the reasons I'm running.
I'm running also to see if we can get a resolution in the Democratic Party (about) volunteers, voter education and voter registration; also with the organization of those persons who have served their time in prison and they cannot vote. ... Many have served their time, and they are still being punished.
In 2007, you ran for public service commissioner; what are you doing differently this time?
I am approaching the education part of involving volunteers from a college perspective ... so that they can offer what they call being a founder of (figuring out) how they can lower the high cost of utilities in the 22 counties.
You mentioned the Democratic Party earlier. How do you think your run can help the Democratic Party?
I'm putting together a resolution that deals with if you run as a Democrat, and if you get elected: I want that resolution to be passed and amend the Democratic Party in Mississippi's bylaws (so that) if someone is elected (as a Democrat) before they switch (parties), they should pay a penalty of $50,000 to the party. If they are already elected as Democrats before they change over to any other party, they ought to be able to pay $50,000 as a penalty.
So does that deal with Lynn Posey changing parties recently?
Yes, that is one in particular. Then I want more involvement with young Democrats, volunteers to get in the community for voter education—to get involved in voter education and registering to vote.
What do you think about the Kemper coal plant? Do you favor it?
I do not favor it, because I think that before you can pass an expense to the community, I think that the community should be educated on the need and the expenses that are being passed on to the consumers. I think they ought to have some say-so before expenses are passed on to them for that particular plant. I'm not in favor of that part of it.
I think that education there, again, needs to be shared with the community so they can have input. When I'm elected, I want to make sure the community has some say as to how I should vote on such plans as the Kemper plant.
How do you plan to get that community input?
By setting up community and committee meetings and taking it to them—so they do not have to come to the Woolfolk building, but taking it to the community. ... I will involve the college students, letting them get involved in the planning and (taking) the volunteer approach to get everyone involved with the education process of the plants and regulations that deal with consumers.
I think that the community is just left out.