Wednesday, September 21, 2011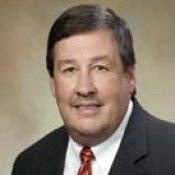 Public Service Commissioner Lynn Posey was traveling when he called for this interview. As he was talking about his family—Kathy, his wife of 27 years, his son, Hunter, and his daughter, Kaitlyn—the call dropped. When he called back, Posey feigned indignation at the bad cell phone service and blamed it on Northern District Commissioner Brandon Presley, before laughing and admitting he was still in his Central District.
Dropped calls aside, Posey said the commission has made progress during his time there with a bill of rights for ratepayers and no-call lists to deter telemarketers. Although Posey ran as a Democrat, he switched to the Republican Party last December.
Posey, 56, is in his first term as public service commissioner for the Central District of Mississippi, which includes Hinds County, and is the commission chairman. He was a state senator for 19 years. He got his bachelor's degree in political science and his master's in public administration from Mississippi State University. He also graduated from the University of Mississippi School of Banking. He lives in his hometown of Union Church in Jefferson County.
If you are re-elected, what are your biggest priorities for next term?
I don't think my priorities would change much for next term. I think this is a very proactive commission, and we've done a number of things, like the Mississippi Ratepayer Bill of Rights, and we've been real active in trying to audit real closely the utility companies out there to make sure the ratepayers are getting the best deal they can.
What challenges do you see?
We've got several pieces of federal legislation that are pending that would be extremely detrimental to Mississippi, as far as having a really bad rate impact on the customers. We actually entered a suit against the Environmental Protection Agency over some of their proposed regulations. [Editor's note: The commission voted Sept. 15 to sue the EPA over regulations requiring power plants to reduce their nitric-oxide emissions.]
How would they be negative?
It would cause rates to go up, and actually some of the electrical companies would not be able to utilize some of the plants that they have (because they would be violating the EPA pollution standards).
I understand you switched parties recently. What prompted that?
The philosophy of the Democratic Party was getting a little far to the left for me, and I just felt more comfortable with some of the policies that the Republicans were advocating.
Anything specific policies?
For one thing, some of the environmental policies ... the Environmental Protection Agency was trying to implement, and, I think, the spending policies. Having a business background, I didn't agree with some of the spending policies that were being used (despite the fact that we're in a budget deficit).
Will the Kemper County coal plant cause customers' rates to go up?
At some point in time rates will probably go up, but the rates would probably go up anyway. We studied the Kemper County plant for a long time, and studied two things: The first thing was need—did we need the plant? ... The commission agreed unanimously there was a need there.
Then, how do you fill that need? A number of experts testified that Kemper County would be the best solution to fill the energy needs we will have over a number of years.
At the time—and still—Mississippi Power, the company building the plant, was heavily reliant on natural gas. ... Gas has remained relatively inexpensive right now, but if we just keep Mississippi Power dependent on gas, if gas went up, it would be a terrible burden on the ratepayers from a natural-gas standpoint.
Some people are concerned about hydraulic fracturing, or "fracking," a technique in drilling for natural gas and oil. Do you think that's safe?
As I understand it, as long as you're not affecting the water table (it's safe)—that's the main danger. As long as you're doing the fracking below the water table and there's no danger of getting (contaminants in the water), it seems to be a fairly safe practice so far. There's a tremendous amount of natural gas we can tap into with this new process.
Anything you'd like to add?
I did want to make clear that most all of the Central District is served by Entergy Mississippi. As a matter of fact, I just put out a press release this morning—we've been able to lower rates in the Central District for those who have Entergy for three (consecutive) quarters ... so the rate increase for anybody concerned with Kemper won't affect anybody in the Jackson area and won't affect many people in the Central District at all. ...
One other program that I'm really proud of is our No Call Program. We're trying to keep that in place and expand it.