Friday, September 2, 2011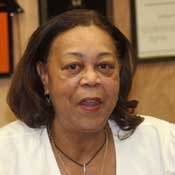 Sept. 2, 2011
Interim Superintendent Jayne Sargent will only be at Jackson Public Schools for six months to a year, but she is working on technology and curriculum changes that will help the school system in the future.
Sargent spoke at today's Friday Forum at Koinonia Coffee House, where she responded to questions about high dropout rates and children reading below grade level.
"All of it isn't about money," Sargent said.
JPS has many different reading, spelling and phonics curricula in place that Sargent is in the process of figuring out what works and getting rid of what doesn't.
"We have habitually added more on, but haven't thrown anything out," she said.
Sargent said she is working closely with Deputy Superintendent Wilbur Walters so that he can help the next superintendent transition into her job next year and carry over some of the practices Sargent is putting into place, such as technology in some schools so students can watch videos of classes they miss.
After former superintendent Lonnie Edwards' contract expired, Sargent became the JPS interim superintendent July 1. The board voted not to renew Edwards' contract last December. Sargent was the first woman to serve as superintendent of JPS and held the position from 1997 to 2002, when she retired the first time. JPS is currently in the beginning stages of a search for a new superintendent. Sargent has agreed to be superintendent for up to a year, and said she is glad to be back.
The function of the central office is to make schools better, Sargent said, which includes training teachers to better help their students.
"I'm not suggesting that there aren't some (teachers) there who are failing, but there are bigger stories behind their failure," Sargent said. "My job is to teach them to be successful. ... I can't fire my way to success, but I can coach them to be successful."
Sargent also promoted pre-kindergarten education as essential to student success.
"The only way we can truly make a difference for all the children in our state ... is through pre-K programs," she said. "... The children are hurt and are behind when they enter kindergarten in our schools in some communities."
Clinton, Rankin and Madison county schools will soon face some of the same problems with student achievement that JPS does, Sargent predicted.
"Problems don't go away because you move," she said.
Businesses and parents can help JPS by using their resources to help solve some of the school district's problems, Sargent said, whether they are involved in a formal organization like PTA or not.
"Go by the school, is what I suggest," she said. "Ask them what you can do."