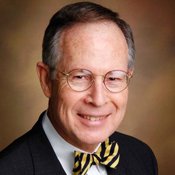 With his trademark bowtie in place, Aubrey K. Lucas oversaw the evolution of the University of Southern Mississippi. For that and other activities, he is one of 11 Mississippi Medal of Service recipients.
Now president emeritus and professor of higher education, Lucas was president of Southern Miss for 22 years, during a time of growth and transformation, a news release stated. Examples include establishing the Teaching and Learning Resource Center and the Center for International Education. Also, Lucas led the reorganization of the university's 10 schools into six colleges and helped form the Institute for Learning in Retirement. He helped create the Polymer Science Institute, a program that has had tremendous impact on Mississippi's reputation in the high-tech industry and helped create jobs.
Lucas, a native of State Line, Miss., was an instructor at Hinds Community College in his early career and was president of Delta State University for four years. He was director of admissions, registrar, professor of higher education and dean of the graduate school at Southern Miss. Lucas consulted other colleges and universities and was president of state, regional and national organizations. He is a tree farmer and is retired from the board of directors of Mississippi Power Co.
Lucas earned his bachelor's and master's degrees from Southern Miss and received his doctorate from Florida State University. Mississippi College awarded him an honorary doctor of humane letters degree. He served as interim commissioner for Higher Education for the state from 2008 to 2009.
Lucas lives in Hattiesburg.
Other recipients of the award are U.S. Sen. Thad Cochran, Mississippi House Speaker Billy McCoy, former Mississippi Court of Appeals Justice Mary Libby Payne, former Mississippi Supreme Court Justices Reuben Anderson and Ed Pittman, University of Mississippi Chancellor Emeritus Robert Khayat, former Mississippi Board of Education Chairwoman Lucimarian Roberts, Jackson businessmen Jim Barksdale and Cornelius Turner, and blues legend B.B. King.
"These individuals have had tremendous influence on Mississippi," Gov. Haley Barbour said in a news release. "Their hard work and contributions have made Mississippi a better place to live and work."