Wednesday, October 5, 2011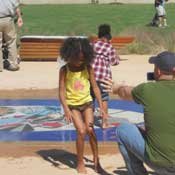 "There's a feeling in the air ..." So starts a favorite Better than Ezra song that reminds me of fall. Lately, that feeling has made me want to get outside and enjoy the great weather that this time of year brings. But beyond football fields, I found myself drawn to water this fall.
I'll confess: Joining the yacht club isn't necessarily the first thing I personally think of doing when moving to a new city. But, then, unlike my friend Erin Kelly, I didn't grow up in America's sailing capital (Annapolis, Md.). A relatively new Jacksonian, Erin is a card-carrying member of the Jackson Yacht Club (700 Yacht Club Road, Ridgeland, 601-856-8844), and I recently joined her for a Saturday beer-can race. I grew up sailing with my grandfather, who built several boats, so I have what amounts to a borderline romantic relationship with the idea of sailing.
However, it had been a while since I'd actually been on the water. So while Erin confidently skippered, and the guys we were with crewed, my assigned duty was to man the iPod. Since I remain fully committed to having a good life soundtrack, I was perfectly fine with that and sat back to just enjoy the day.
We missed the start, so decided to just take the "sailing our own race" approach to things—which is a good approach in life, when you think about it. We had a great time, and that's what really matters. Sailors tend to be fun people who are happy to have new faces around, so afterward, we joined the rest of the racers at the club for a drink. I'll definitely be back, and with enough practice thanks to opportunities for Wednesday, Saturday and Sunday races, maybe I'll actually live up to my last name.
Back on dry land, later that week, a friend who works in Ridgeland asked if I'd like to journey to the suburbs to enjoy the poolside patio at The Parker House (104 S.E. Madison Drive, Ridgeland, 601-856-0043). We went on a Wednesday, and in addition to the pretty patio, Chris Gill played live music, and we enjoyed half-price bottles of wine.
I'm really excited that, these days, getting outside to enjoy some pretty green space and water doesn't have to mean leaving downtown. The new Art Garden at the Mississippi Museum of Art (201 E. Pascagoula St., 601-960-1515) will easily become one of my favorite spaces. Not only is there a stage for outdoor performances, green areas on which to sprawl and plenty of seating areas, but kids (and the young at heart) can play in the mosaic fountains. On a hot day, I may very well join them in cooling off in the water.
This fall, get out and enjoy the great outdoors—whether your activity of choice involves more active pursuits or just a good cocktail on a patio, Jackson has plenty to enjoy.
Follow Julie on Twitter @jcskipp. For more fashion tips, tricks, and sales, check out this week's JFP Issuu and follow us on Twitter FlyJFP and FlyJFP Facebookfor sales and fashion news.