Wednesday, November 30, 2011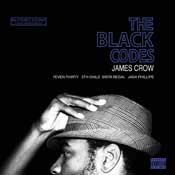 I know, I know. It was just a few months ago that I wrote about Herbert Brown. So why am I doing it again? If you remember, Herbert Brown, 32, goes by many names and wears many hats. Previously, I focused on his life as a poet and the revival of the Jackson spoken-word/live poetry scene. This time around, the focus is on Brown's life as rapper James Crow.
And one other thing: I am compelled to take this moment to remind readers that Herb and I are good friends from our days as South Jackson teenagers. I also perform hype-man duties for James Crow shows. I do all of this to support my friend whom I believe in as an artist, and not for any monetary gain.
With that disclaimer out of the way, let's get to the real issue: James Crow's debut album, "The Black Codes," was finally released Nov. 12. I say "finally" because some of us have been listening to the early version of this record for about three years now.
It is often said that artists have their whole life to make their first album and that idea holds true for "The Black Codes," which in many ways plays like a soundtrack of one man's lifelong journey through classic hip-hop, black nationalism, subversive comedy and archetypal funk sampling.
After an intro from funnyman Cock McFly to open the album, the music kicks off with "He's Baaaaaaaack!," a song that harkens back to the days of hook-free hip-hop when rappers just rapped.
The song serves as a manifesto for Crow's take on the state of hip-hop and his place within it: wack rappers, lame fans and bored hype-men should all take cover.
"Back Into It" follows; its smooth synth sample and soulful lyrical delivery offers a contrast to the rapid-fire rhymes of the previous track.
Crow's brother, 5th Child, who also produced every beat on the record, drops a guest verse on the haunting "Whistle of Dixie," where Crow asks "What if I would have heard Ella Baker yell, 'Blacks organize' for the first time?/Those would be the first lines of my first rhymes/See, I don't care if I'm signed, caused I just autographed your mind."
The midpoint of "The Black Codes" houses crowd favorite "A Rhyme Called Fresh," a track with a guest verse from 7even:thirty and a beat that makes me think what the world would be like if the 1990s never ended. The record closes with the one-two punch of "The Black Codes" and "Fall in Line," two tracks that deal with the past and present of the black experience in America. This section of the album gives "The Black Codes" a sense of moral authority that a lot of modern hip-hop lacks.
But it is not all serious all the time. "Cripple Fight" and "Do Da Meat Chop" skewer mainstream rap in a way that is funny, serious and vital all at the same time. In the end, that is what James Crow is all about. He understands that hip-hop needs to be serious but also needs a lighter side to make the heavy stuff more palatable.
Crow pulls this off effortlessly, giving the album an added layer of authenticity that will appeal to music fans of all stripes.
Go to http://jamescrow.bandcamp.com to download "The Black Codes" or email [email protected] to arrange getting a copy on CD, because you can't buy local music in Jackson anymore. The CD comes with two bonus tracks.