Wednesday, November 23, 2011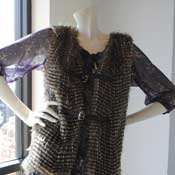 This fall's fashion is all about denim, rich colors, earthy hues, feathers and fur. Azul Denim has it all. Azul has been a premier shop to get the hottest styles in denim for the past three years. It also stocks cute, fashion-forward tops and accessories to complete your outfit.
Sonia Miller, the owner, has created a fashion denim boutique. Miller moved to the United States from Honduras to attend the University of Florida. She received a bachelor's degree in marketing in 2006. She met her husband, Ray-Scott, who is from Madison, while in Florida. The couple moved to the Madison area in 2007.
Miller comes from a family of entrepreneurs. She wanted to focus on denim because it is one clothing staple that works for all ages and body types. Denim comes in many cuts, styles and colors, and can go from casual to business to dressy easily. Miller gathers inspiration for her store's offerings from watching what Mississippians wear, E! News and fashion designer Rachel Zoe. She then scours markets, searching for the most flattering in name brands, such as 7 For All Mankind, Citizen of Humanity Jeans and True Religion. Azul Denim also carries maternity jeans.
"Our customer is conservative, yet likes to be edgy and sexy at times," Miller says.
The trends this season take notes from the 1940s with flouncy blouses, denim dresses, kitten heels and muted colors and the 1970s with chunky jewelry, rich earthy colors, flared denim and denim shirts. There is also inspiration from the 1990s grunge era with denim of all shades and colors, plaids, military-inspired details and fur accents.
One of Miller's favorite pieces in the store is the new Casey Skinny Jeans by True Religion. She describes them as a cross between a legging and a skinny jean. This creates a jean that is flattering on various body types and comfortable. Skinny jeans paired with kitten heels and a flouncy blouse can create a great 1940s-inspired look. Pair the jeans with combat boots or a pair of Chucks and a plaid shirt for a more edgy, grunge-inspired look.
Miller's other favorite item is a chocolate-brown faux fur vest with leather clasps. The vest is perfect for this fall's obsession with fur and is sure to make a great statement piece in your wardrobe. This piece would work well with both the 1990s and 1970s-inspired looks this fall.
For a 1970s look, pair the vest with a flared jean and chunky heels or clogs. A 1970s-style top under the vest along with gold-toned jewelry will bring out your inner flower child. For a tougher 1990s look, pair the vest with a slimmer cut jean, boots with military-inspired touches and a fitted top under the vest.
Azul Denim also features jewelry by Livi Lawson Design, a local jewelry artisan. Lawson's jewelry is one-of-a-kind, and can work with casual and dressier outfits.
The pieces are at great prices, averaging $35. Azul Denim's clothing selection prices average around $50 for tops, $200 for denim and $20-$100 for accessories and belts.
Azul Denim is at 733 Lake Harbour Drive Suite E, Ridgeland, next to Newk's Café. Store hours are 10 a.m.-7 p.m. weekdays and 10 a.m.-6 p.m. Saturdays. Visit http://www.azuldenim.com or call 601-605-1066.