Monday, November 21, 2011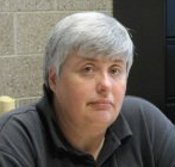 The Mississippi Library Association recently awarded the 2011 Peggy May Award to Kathy Buntin of the Mississippi Library Commission at its annual conference. Buntin is the senior library consultant in the Development Services Division of the MLC.
The Peggy May Award recognizes a person who shows outstanding achievement in library development and personnel recruitment into the field.
"Being a librarian is more than a job. It is my career and an integral part of how I see myself," Buntin says. "The support of family and friends has been crucial in my professional development, and I hope that I am able to continue to serve the state of Mississippi and especially Mississippi librarians for years to come."
Melissa Wright, who had worked with Buntin at MLC, nominated her for the award. In her nomination, Wright wrote, "She took me under her wing and answered my questions, introduced me to people around the state and helped me hone my library skills. Kathy embodies everything that a librarian should be: She is hard working, innovative, service-oriented and is always willing to go the extra mile to help a librarian in need."
Buntin received her master of library science degree from the University of Alabama and served as director of the Tallahatchie County Library for almost five years. She then started working at the Mississippi Library Commission as special projects officer in the Grants Services Department.
More like this story