Wednesday, November 2, 2011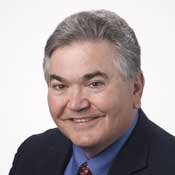 If Hinds County Supervisor candidate John Dennery had to choose an animal he identifies with the most, he says he would pick a guard dog. The Republican candidate for the District 1 seat isn't happy about how the board has spent taxpayer money over the past few years and pledges that he will eliminate wasteful spending if elected.
The 58-year-old Jackson native owned and operated Dennery's Restaurant for 33 years before closing it in 2008 and retiring. On Sept. 13, weeks after the Republican primary, Dennery announced his candidacy when Roger Davis dropped out of the race.
Dennery currently lives in northeast Jackson with his wife, Laura. He called the Jackson Free Press from Tate Reeves' former campaign office on Lakeland Drive in Jackson. Reeves, who won the Republican primary for lieutenant governor against Billy Hewes and is running unopposed in the general election, is donating office space to Dennery, who is a family friend.
What's it like coming into a race a little late in the game?
Well, it's been really invigorating. I've done a lot of research on the board of supervisors and the minutes, and the more I find out about the actions (of) the majority of the board, the more concerned I become and the more committed I become to get onto the board of supervisors, where I feel I can make a positive change.
Why did you want to be the replacement candidate?
I had heard that Roger was going to withdraw. I had been retired for three years. I saw it as an opportunity to serve in a way I was not going to be able to if I was running a business. I felt like I could make a difference by bringing my 33 years of business experience.
Which of the board's actions concerned you?
The no-bid contracts that the board has chosen by majority vote to continue even as recently as two weeks ago, that in my opinion should be bid on and aren't. Even when several members of the board ask for them to be bid, the majority overrides them, and they continue to do business and not bid out the work.
Is it against the law to not require bids for contracts?
You would have to ask the attorney general. I don't know if it's against the law or not, but I don't think it's right. Someone has to stand up for taxpayers and spend our money more responsibly.
Your opponent received a demand from the state auditor for time-clock infractions he received for working simultaneously as an instructor for the Jackson Police Department and the city of Jackson. What are your thoughts on that?
I'm disappointed to hear about the problems he has. It doesn't reflect well on the board of supervisors or Hinds County. I can't speak for Robert (Graham) or the district attorney or state auditor, but to have these accusations are very worrisome.
The board of supervisors has been criticized for its handling of the county's budget and having to furlough employees. What would do you differently?
I think that by using our taxpayer dollars more effectively and efficiently, that would allow us to balance our budget and not balance it on the backs of our county employees. ... On one hand, you authorize a company to do work and not have a competitive bid and not know how much money you might have saved, and then you turn around and ask county employees to take days off. I think that's just wrong.
How would you like to prioritize economic-development projects in Hinds County?
Our city and county need to have the same type of focused effort on development like some of our neighboring counties have created. I hope to work with the majority of the board of supervisors to develop and continue to develop the plans they have set out with. I know there is a lot of interest in developing a corridor in Byram. I know there is a lot of interest in redeveloping the Highway 80 corridor. One of the things I want to try to focus on is eliminating waste in our county budget and creating a source of surplus funds we can use to help encourage economic development. At the same time we need to look down the road (to) how we can work more effectively to lower the tax burden of citizens. We in Hinds County are being taxed at a millage rate that is 20 percent higher than Rankin or Madison County. To a businessperson, having a 20 percent disadvantage makes it a very compelling reason to take business outside the county.