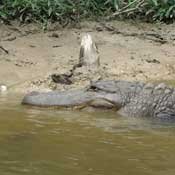 "Are we there, yet?"
This past weekend, I traveled with my son's Cub Scout troop to Louisiana for a tour of the Honey Island Swamp. As cliché as the phrase is, it doesn't stop kids from asking it. The swamp is 250 square miles (with 70,000 acres of wildlife nature preserve) that got its name from the honeybees found in the area. I wasn't sure if I would go (the thought of alligators gives me nightmares), but in the end I decided the experience was one I just couldn't pass up.
Our guide, Charlie, was a raspy-voiced native of the area. He led us on a two-hour boat ride down the Pearl River in a 5,000-pound covered boat where we saw resident and migratory wildlife including alligators, eagles, herons, egrets, osprey, hawks, turtles, crawfish and a snake. One alligator, El Guapo, is between 15- and 16-feet long and weighs about 1,000 pounds.
The driving time there and back was six hours. And with any trip, preparation was key to make sure everything ran smoothly. Whether you're traveling with friends or family, here are some road trip tips to consider.
• Plan for extra time. When possible, always build in a cushion of time for bathroom breaks, gas stops, detours and any other number of unexpected delays.
• Don't rely solely on GPS. Although many cars come equipped with GPS, and smart phones have navigation capability as well, you shouldn't completely rely on them because they can steer you wrong. It is a good idea to print out directions and have a map or road atlas handy.
• Mix it up. If allowed, my son would play his portable video game all day, every day. And it is tempting to let children to play their games or watch DVDs for an entire road trip. It's good to encourage them to be interactive and creative during the trip, though. Prior to your trip, stop by your local all-purpose store or bookstore for crayons, pencils, coloring and activities books and age-appropriate magazines and books. Gather all these items together in a backpack or storage tote to make it portable and keep things tidy in the backseat. Check the Internet for websites that provide printable activity sheets (such as activitiesforkids.com and roadtrippingma.com) and travel journal pages (such as momready.com) for your
young passengers.
• Have a plan and a checklist. I'm all for "carpe diem," but when you're traveling with kids you must have a plan. Allow for flexibility and spontaneity in your plan, but you should still map out where you are going and what you plan to do when you get there.
Take some time before your trip to research your route and destination. Be familiar with rest stations, gas stops and kid-friendly attractions along the way. If you are traveling with the family pet, don't rely solely on the Internet to reveal places that allow pets. Call ahead to make sure policies have not changed.
It's a good idea to have a checklist (find one at familyfun.go.com) to ensure you bring all the essentials with you: batteries, paper towels, headache medicine, wipes, etc. Mark-ups in tourist areas can get steep. If you have space in the car, be sure to bring jackets and a change of clothes for each family member—even if you're only going away for a day-trip.
• Snacks. On our trips, I bring ample snacks, but also budget in funds for eating out. Sadly, there is something about being on the road that makes you crave soda, candy and chips—I am guilty of this, for sure. If you can, try to keep those types of snacks to a minimum. At least incorporate some healthier snacks like fresh fruit, veggies, yogurt and lots of water.
• Bring a friend. Depending on where you are going, consider traveling with other people. The trip to the swamp was our second trip with the Cub Scouts. Last fall, we went to the USS Alabama. Since our son is an only child, it's nice to have other kids to interact with and build memories with. A friend of mine let her teenage daughter bring her two best friends on a summer trip to the Bahamas. It takes extra planning to travel with other people's kids, a group or another family, but it's definitely worth it.
• Music. Get your entire family involved in picking out songs to load onto your mp3 player. Not only does music add fun to a trip, but when you hear those songs later, it will bring you right back to the moment.
Honey Island Swamp Tour (41490 Crawford Road, Slidell, La., 985-641-1769, http://www.honeyislandswamp.com) offers two-hour tours year-round; reservations are required.