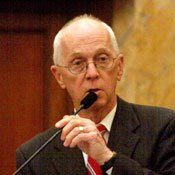 In light of an improved economic outlook, a panel of state lawmakers agreed today to adopt slightly higher estimates for state revenues in the 2011 and 2012 fiscal years.
The adjustments amounted to "more of a fine-tuning of the estimate than any substantive change," state economist Darrin Webb told legislators in recommending the revision.
Webb cited improving employment numbers, rising sales tax revenue and higher-than-expected tobacco tax revenue, among other figures.
"The evidence that the economy is improving has expanded," Webb said. "These statistics show that the state economy is growing, although at a slow pace."
The Joint Legislative Budget Committee approved Webb's recommended changes, adding $6.5 million to revenue estimates for the current fiscal year and $14.4 million to estimates for the upcoming 2012 fiscal year. Those revisions bring total projected revenue to $4.537 billion for 2011 and $4.602 billion for 2012.
The new revenue numbers amount to a predicted 0.9 percent economic growth rate in the current fiscal year and a 1.4 percent growth rate in 2012.
"We're not going to soon return to the strong growth of the past," Webb cautioned. "We appear to be in an environment in which growth will be below historical averages for quite some time."
Webb said that it was too early to predict the effects, positive or negative, of the earthquake and tsunami in Japan on the state and national economy.
Despite the budget committee's approval, the higher estimate could still face some obstacles. Senate Appropriations Committee Chairman Doug Davis, R-Hernando, who will likely represent his chamber in budget negotiations, voted against the revised estimate. The state still needs roughly $21 million in the remaining four months of the 2011 fiscal year to make its original revenue target. With the revised end-of-year estimate, revenue would need to come in $7 million above estimates, on average, for each of those four months to meet the higher expectations, Davis noted.
"That's a little concerning for me," Davis told Webb.
Webb told lawmakers that he considered the new revenue projection a "conservative" figure.
"A significant portion of our fiscal year (revenue) total (comes) in the last few months of the fiscal year," Webb said. "The slight growth rate shows us we will collect that. I'll give you an example for the sales tax estimate: For the sales tax estimate, growth can actually decline 1.3 percent for the rest of the fiscal year, and we will make our sales tax estimate. We've been seeing sales increase. The economy is expanding, not contracting."
Still, Davis appeared unconvinced.
"On this one, I just didn't have enough evidence before me to justify any increase at this time," Davis said after the meeting.
With the revised revenue estimate for 2012 in hand, legislators can now begin overall budget negotiations. Earlier this month, Gov. Haley Barbour vetoed an appropriations bill for community colleges because legislators had not agreed on a total revenue number for the upcoming year. Last week, a K-12 education-funding bill, which both chambers approved, avoided the same fate when Davis sent it to a two-chamber conference committee for negotiations.
House Education Committee Chairman Cecil Brown, D-Jackson, who has represented the House in budget negotiations, said that he hopes the improved economic news will bolster the case for funding education at the level both House and Senate members approved. Davis' committee originally pared $81 million from the bill, but the full Senate rejected the lower amount in favor of an amount equal to last year's appropriation.
"I'm cautiously optimistic," Brown said. "Any additional revenue that we can put on the table in negotiations will help. You've got both chambers that have passed the same bill, so I think that's our starting point. The House position is, on both community colleges and K-12, that both chambers have passed the same funding level, so we're going to start from there."
This afternoon, Barbour released a statement criticizing the committee's decision.
"I disagree with the decision of the Joint Legislative Budget Committee to increase the revenue estimate for this year and next year by a total of $20.9 million. We cannot rely on imagined revenue when the national economy has not returned to full speed and gas prices are heading toward $4 per gallon," Barbour said. "Mississippi will continue to feel the effects of this global recession. We must expect slow revenue growth over the next few years and reflect that in our spending."