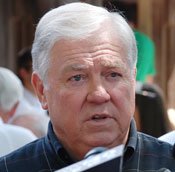 A Senate Appropriation Committee's amendment that would have reduced Mississippi's K-12 education funding by $81 million failed yesterday in the Senate's 29-22 vote.
House Bill 1494, which allocates $2.3 billion for education, now heads to a conference committee where state House and Senate members can add further amendments. Gov. Haley Barbour said that he would veto any funding bill that comes to his desk before the Legislature adopts a balanced budget.
The governor said he was disappointed with the Senate's vote.
"Putting more state money into education when we have $85 million in federal funding available means we jeopardize how much we will have to spend in coming years," Barbour said in a statement. "To ignore the money our school districts have received through federal education jobs funding will result in other agencies receiving less funding and will nearly eliminate any reserves for the following year."
In his November 2010 budget proposal, Barbour justified lowering the state education's budget because of "$65 million of unspent education dollars that will be available to school districts in (the) 2012 (fiscal year)." In his statement yesterday, Barbour did not cite the source of the additional $20 million.
Nancy Loome, executive director of the Parents' Campaign, said that Barbour's assessment of education funding is misleading and speculative.
"(Barbour is) just speculating how much of what districts were already given from the federal government, and how much districts have left to spend. That is why the number keeps changing," Loome told the Jackson Free Press today. "It is not money that (the state) can appropriate. It is not additional money that schools will be getting next year. It is simply the federal funds that schools got last year, that they were supposed to spend this year on teacher's salaries. It was intended by the federal government to be over and above any state appropriation. It says specifically that states can't use it to supplant state funds."
Also see: "Barbour's Bad Education Math"