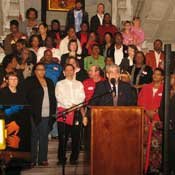 Donna M., a homeless Jackson woman infected with HIV, threw away her medicine while living with family members, fearing that they would find out about the disease that she was trying to keep secret. Another Jackson resident, Thomas L., claims that many suffering from HIV/AIDS in Mississippi often tell family members that they have cancer and would rather die than have anyone know they have the disease.
These two residents, who asked that their last names not be used, are two out of hundreds of interviews Human Right's Watch conducted over the past year in Mississippi. The interviews reveal the stigmas and barriers many Mississippians with HIV/AIDS face in receiving adequate care.
"Throughout Mississippi, people living with HIV, their advocates, health providers and public officials describe an extreme stigma surrounding HIV that is, for many, more frightening than the disease itself," states the Human Rights Watch report, "Rights at Risk: State Response to HIV in Mississippi," released yesterday. "Mississippi laws and policies promote prejudice and discrimination against homosexuals, and state education laws marginalize LGBT youth."
Yesterday at the state Capitol, approximately 30 HIV/AIDS advocates and patients stood together to draw attention to the Human Rights Watch report and Harvard Law School's "State Healthcare Access Research Project: Mississippi State Report" released yesterday during the inaugural Mississippi HIV/AIDS Awareness Day.
"We issued this report because Mississippi has serious problems with HIV," said the international human rights advocacy organization, Human Rights Watch, Senior Researcher Megan McLemore during the event yesterday. "... Fifty percent of people in Mississippi with HIV are not receiving care. A second concern is that the death rate (for those with AIDS) in Mississippi is 60 percent higher than in the rest of the country."
Mississippi has the 10th highest rate of AIDS diagnosis in the country and the 16th highest rate of HIV infections. In 2009, 9,212 people in Mississippi were living with HIV/AIDS; however, the Human Rights Watch report states that the number underestimates residents with HIV/AIDS because 10 to 25 percent of people with the disease do not know they have it.
Mississippi allocates $750,000 for HIV/AIDS treatment and services each year, but McLemore said that those funds are inadequate compared to other states. The state's funding, she said, has remained the same for the 10 years despite the rising costs of medical care and housing.
The report calls for state agencies such as the Department of Health, to apply for more federal funds to provide health care, housing and transportation services for those living with HIV/ AIDS. "Mississippi leaves millions, and perhaps billions on the table every year by not taking advantage of federal dollars that they need to get," McLemore said.
She also called on Gov. Haley Barbour to support the Patient Protection and Affordable Care Act because it would expand Medicaid.
"Medicaid is a lifeline for those living with HIV/AIDS in Mississippi," she said. "Medicaid expansion has real-life consequences--life and death consequences for those living in his state--and we call on (Barbour), right now, to withdraw his opposition to the expansion of Medicaid in Mississippi."
Dr. Nick Mosca, who began serving as the director of the Mississippi Department of Health sexually transmitted diseases/HIV program in November 2010, said that it is not as simple as the state getting more federal money.
"One of the things we are struggling with is how to we apply for funds and (then) be able to manage them effectively," Mosca said. "If we are not able to apply for the funds, ... the funds could be applied for by community-based organizations. One of the simple improvements we could make is to let those organizations know that if the opportunity arises, (and) we're not going to do it, but (they) should do it."
Previous Comments
ID

162509

Comment

It's the exposure that puts the state on the front page of yet another downfall and exploits the hate and greed that still exists. As a self proclaimed bible belt state you would thing they would want to lead by example. The state prison unit 32 kept HIV+ inmates secluded without proper access to medications and rehab programs. Basically left in the back to die. Even after an agreement with the ACLU to correct the problem, an email to the prison inquiring about the status sent alarms throughout the administration. They were still verbally abusing inmates. Retaliation for getting caught? who knows.

Author

DeGuyz

Date

2011-03-10T15:10:35-06:00