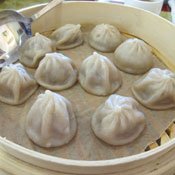 Opened as a part of the new Oriental Supermarket, Mr. Chen's Authentic Chinese Cooking brings a new style of Chinese cuisine to Jackson. Inside, you'll find well-known dishes such as Kung Pao Chicken and General Tso's Chicken, but there is a touch of the exotic to Mr. Chen's. It's not often that you see Tossed Jelly Fish in Sesame Oil or Spicy Pork Intestines in Hot Pot on a Chinese restaurant menu.
While the Garlic Spiced Bacon Meat and Chen's Crazy Spicy Chicken may captivate you, it's the seafood portion of the menu that deserves extra attention. Mr. Chen's is built into the Oriental Market, which includes a remarkably extensive seafood counter. Sure, fresh flounder, grouper and lobster may be old hat, but its rare to see live blue crabs, Dungeness crabs, frogs, head-on shrimp, eels and snails in Jackson. With all that bounty of the sea to pull from, the Crispy Salted Dungeness Crab and Shrimp in Black Bean Sauce are two excellent starting points.
With its substantial seafood counter, fresh produce and dry goods, the Oriental Market and Mr. Chen's Authentic Chinese Cooking is a welcome addition to the Jackson food landscape. Take a fresh look at Chinese cuisine with the extensive selection of offerings. Once you've soaked up the diversity of the grocery, take a seat at Mr. Chen's, order your favorites or start wandering through the menu.
Mr. Chen's Authentic Chinese Cooking
5465 Interstate 55 N., 601-978-1865