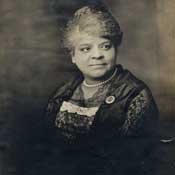 In 1961, Charlayne Hunter-Gault succeeded in integrating the University of Georgia alongside Hamilton Holmes. Hunter-Gault became the university's first black graduate in 1963. From there, she went on to excel in broadcast journalism, winning two Emmy Awards and two Peabody Awards.
Half a century ago, a group of men and women, young and old, sought to gain the civil rights and freedoms that they deserved. Frequently missing from the stories about the civil-rights fight, however, are the women involved. "Freedom's Sisters" aims to change that.
Living legends such as Hunter-Gault and Kathleen Cleaver, who went from a Black Panther radical to a law professor at Yale University, are among the women honored in the "Freedom's Sisters" exhibit at the Smith Robertson Museum and Cultural Center.
"There was a need to tell the story of the women, of the civil-rights women, in the Civil Rights Movement," says Katherine Krile, Smithsonian Institution Traveling Exhibition Service project director.
"We needed to talk about the African American women who've been real workers and fighters for freedom and justice for several centuries in this country."
The "Freedom's Sisters" traveling exhibit features 20 African American women who fought for freedom, whether it was through poetry or government leadership, often without earning much fame or national recognition. "The advisers of the exhibition wanted to help visitors understand that there were some great women doing great things and fighting for justice in different ways," Krile says.
Instead of simply supplying photographs and text, "Freedom's Sisters" is an interactive exhibition that includes video, audio and games. Geared toward children and their families, the exhibition has hands-on features and reproductions of historic scenes to accompany the stories.
A section of a bus tells the Rosa Parks story. To get the full effect, three people must participate and work together, standing or sitting in specified areas. When this is accomplished, a quote from Parks sounds, and an image of her appears next to the seated person.
"We wanted to make the point that although these women did great things in and of themselves, they also really worked with others," Krile says about the interactive Montgomery bus replication. "To be really effective, you need to work with other people."
Another exhibit features a German shepherd that barks at those who pass by. It is in front of a photograph of police officers using dogs to threaten civil-
rights demonstrators.
"The reason we had that component is to help people understand that this was really dangerous business," Krile says.
"You didn't just make a decision that you were going to make the world a better place. There were people working against you, and there was physical danger and a lot of fear. This one little piece of the exhibition is startling enough to remind the viewer of that."
One of "Freedom Sisters" educational community-outreach efforts is an essay contest for elementary and middle school students where they will write about their favorite Freedom Sister. The Ford Motor Company will award six winners with savings bonds to be used in future educational endeavors.
At the end of the exhibition, visitors can pick up biographies for each of the women and take a photograph of themselves in a photo booth. The resulting photo refers to the visitor as a "freedom leader" in the caption, even if the only person led is him or herself. The person can then add this photo to his or her folder with the rest of the freedom fighters.
"Parents not only want their children to know the stories of these women, they want their children to know that it's possible to do what these women did in various ways," Krile says.
Smithsonian Institution Traveling Exhibition Service and the Cincinnati Museum Center began the traveling exhibition in 2008 in Cincinnati, Ohio. It ends in Jackson this summer during the Freedom Riders 50th Anniversary Reunion.
"The fact that 'Freedom's Sisters' is opening during that period means that our exhibit will add another component to the larger celebration and commemoration that Jackson is in," Krile says.
"That's really special for us."
Among the women honored in '"Freedom's Sisters" are several Mississippians, including Fannie Lou Hamer and Ida B. Wells. Jackson was home to famed freedom fighters Medgar and Myrlie Evers, and many more civil-rights icons have hailed from Mississippi.
"I think that the community in Jackson will embrace (the exhibition) in a very special way," Krile says.
"Freedom's Sisters" opened May 25 and runs through July 30 at the Smith Robertson Museum and Cultural Center, 528 Bloom St. The museum is open 9 a.m. until 5 p.m. Monday-Friday and 10 a.m. until 1 p.m. Saturday. Call 601-960-1457.