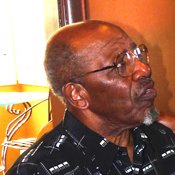 No one tells the story of John Perkins quite like Perkins himself. This morning, the author of nine books shared his story about growing up black in rural Mississippi in the 1930s and his passion for justice that still drives him today.
Speaking to community members at Koinonia Coffee House's Friday Forum, Perkins shared his biography and reflected on his life's work. Perkins is the world-renowned founder of Voice of Calvary Ministries, a Christian community-development ministry. He is also the founder of the John M. Perkins Foundation for Reconciliation and Development, a community-based faith organization in West Jackson. Perkins, 81, frequently speaks to churches and organizations throughout the country. He is also the producer of short Christian films.
The son of a sharecropper, Perkins was born in 1930 in New Hebron, Miss. When he was only 7 months old, his mother died from starvation. His mother's death has been the driving force in his fight for justice.
Perkins often imagines the conversation he will have with his mother in the after life.
"She is probably going to say: You did well. ... You wrote all these books, served on some president's task forces and made some short movies--you even made a video with Switchfoot. You've started a Christian development organization. But then she's going to ask me this question: What did I do for people like her?" Perkins said as his eyes swelled with tears.
When he was 11, Perkins dropped out of school and began working on a farm. After spending an entire day hauling hay for a white plantation owner, he was outraged when the man only paid him 15 cents. He should have received a $1 to $1.50. Instead of throwing the money back at the man like he wanted to do, he walked away with the money, but the experience never left him.
"That's when I began to get angry," he said. "Justice is an economic issue. ... It's not a social issue. A social issue comes after an economic issue. It creates a class structure."
After a deputy marshal killed his brother in 1946, Perkins moved to California. In California, he found work at Union Pacific Foundry in South Gate making cast-iron pipes for sewage and plumbing. In 1960, he came back to Mississippi to start his ministry.
Perkins gives credit to his wife of 60 years, Vera Mae. He told the audience that he strives to take a holistic approach to ministry. Christianity isn't just about saving souls; it's about lifting people out of disparity, loving them and building communities.
"I have tried to put faith and works back together, in what we call a holistic approach," he said. "It's about seeing people as whole people and being concerned for their whole body and mind. Most people are just concern for their soul," Perkins said.
To read more about Perkins and his rich history, see Jessica Kinnison's cover story, "Radical Faith: The Revolution of John Perkins."